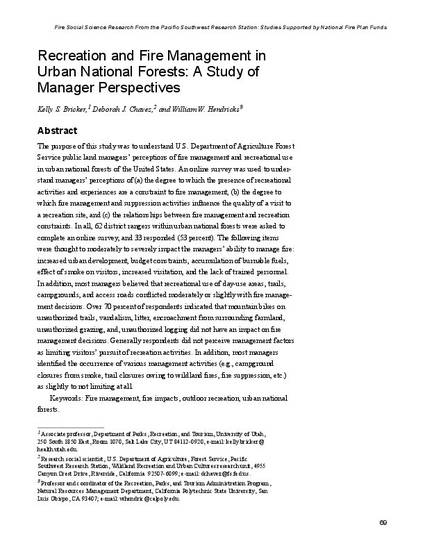 Article
Recreation and Fire Management in Urban National Forests: A Study of Manager Perspectives
Fire Social Science Research From the Pacific Southwest Research Station: Studies Supported by National Fire Plan Funds
Publication Date
8-1-2008
Abstract
The purpose of this study was to understand U.S. Department of Agriculture Forest Service public land managers' perceptions of fire management and recreational use in urban national forests of the United States. An online survey was used to understand managers' perceptions of (a) the degree to which the presence of recreational activities and experiences are a constraint to fire management, (b) the degree to which fire management and suppression activities influence the quality of a visit to a recreation site, and (c) the relationships between fire management and recreation constraints. In all, 62 district rangers within urban national forests were asked to complete an online survey, and 33 responded (53 percent). The following items were thought to moderately to severely impact the managers' ability to manage fire: increased urban development, budget constraints, accumulation of burnable fuels, effect of smoke on visitors, increased visitation, and the lack of trained personnel. In addition, most managers believed that recreational use of day-use areas, trails, campgrounds, and access roads conflicted moderately or slightly with fire management decisions. Over 70 percent of respondents indicated that mountain bikes on unauthorized trails, vandalism, litter, encroachment from surrounding farmland, unauthorized grazing, and, unauthorized logging did not have an impact on fire management decisions. Generally respondents did not perceive management factors as limiting visitors' pursuit of recreation activities. In addition, most managers identified the occurrence of various management activities (e.g., campground closures from smoke, trail closures owing to wildland fires, fire suppression, etc.) as slightly to not limiting at all.
Citation Information
Kelly S. Bricker, Deborah J. Chavez and William W. Hendricks. "Recreation and Fire Management in Urban National Forests: A Study of Manager Perspectives"
Fire Social Science Research From the Pacific Southwest Research Station: Studies Supported by National Fire Plan Funds
(2008) p. 69 - 86
Available at: http://works.bepress.com/whendric/2/