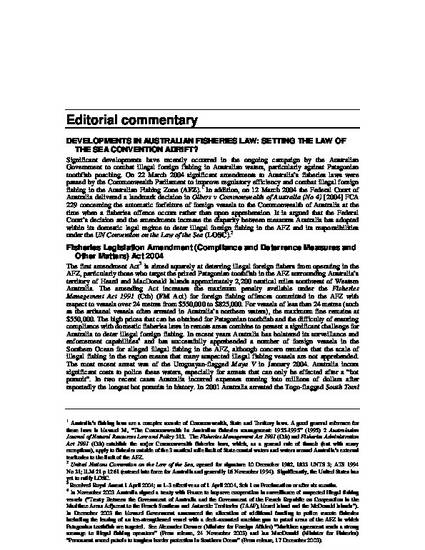 Article
Developments in Australian fisheries law: setting the law of the sea convention adrift?
Faculty of Law - Papers (Archive)
Publication Date
1-1-2004
Abstract
Significant developments have recently occurred in the ongoing campaign by the Australian Government to combat illegal foreign fishing in Australian waters, particularly against Patagonian toothfish poaching. On 22 March 2004 significant amendments to Australia's fisheries laws were passed by the Commonwealth Parliament to improve regulatory efficiency and combat illegal foreign fishing in the Australian Fishing Zone (AFZ). In addition, on 12 March 2004 the Federal Court of Australia delivered a landmark decision in Olbers v Commonwealth of Australia (No 4) [2004] FCA 229 concerning the automatic forfeiture of foreign vessels to the Commonwealth of Australia at the time when a fisheries offence occurs rather than upon apprehension. It is argued that the Federal Court's decision and the amendments increase the disparity between measures Australia has adopted within its domestic legal regime to deter illegal foreign fishing in the AFZ and its responsibilities under the UN Convention on the Law of the Sea (LOSC).
Citation Information
Warwick Gullett. "Developments in Australian fisheries law: setting the law of the sea convention adrift?" (2004) p. 169 - 176
Available at: http://works.bepress.com/wgullett/29/