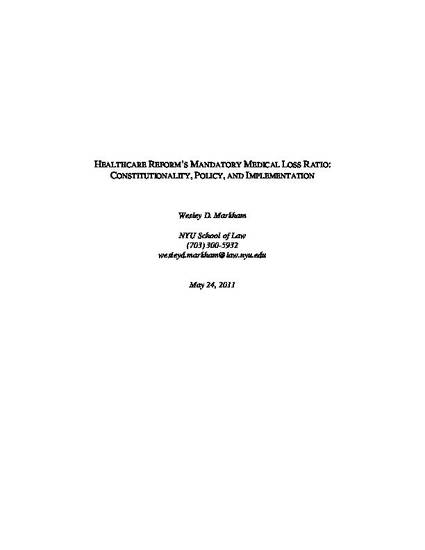 Unpublished Paper
Healthcare Reform's Mandatory Medical Loss Ratio: Constitutionality, Policy, and Implementation
ExpressO (2011)
Abstract
What do Rush Limbaugh and Richard Epstein have in common? They both oppose the medical loss ratio (MLR) provisions in the recently-enacted healthcare reform legislation. After reading this article, so will you. On March 23, 2010, President Obama signed the Patient Protection and Affordable Care Act (ACA) into law, as Vice President Biden whispered "this is a big [expletive] deal" in the President's ear. Unfortunately, as can be expected with any major piece of legislation, the ACA has problems. Those seeking to repeal the ACA have focused primarily on the so-called individual mandate, which requires individuals to purchase health insurance. A number of lawsuits challenging the constitutionality of this provision wind their way to the Supreme Court as we speak. I write this article to turn the public's attention to a much more troubling provision, the medical loss ratio (MLR) mandate, which dictates how private health insurance companies must spend their money. The ACA's nationwide, mandatory MLR very likely violates the Constitution, in part because the MLR's "safety valves" do not adequately ensure that health insurance companies can earn the constitutionally-required reasonable rate of return. To make matters worse, it appears that Congress' decision to set the MLR benchmark as it did was not based on economic analysis of the insurance market, or balancing of interests between insurance companies and consumers, or what MLR will yield a reasonable, non-confiscatory rate of return for the insurance industry, but rather politics. This decision-making process falls far short of the fact-intensive, market-specific, economic-based analysis required by the Constitution when the government sets rates. In addition to being constitutionally troublesome, the ACA's MLR mandate is bad policy. In this article, I suggest that the cognitive bias known as "anchoring" will simultaneously cause "low MLR" providers to raise their MLRs to comply with the law (the law's intended effect) and cause "high MLR" providers to drift downward towards the new national MLR standard (an unintended, detrimental consequence of the law). For these reasons, Congress should eliminate the mandatory MLR from any future healthcare reform legislation.
Keywords
medical loss ratio,
MLR,
affordable care act,
ACA,
PPACA,
cognitive bias,
anchoring
Publication Date
May 24, 2011
Citation Information
Wesley D Markham. "Healthcare Reform's Mandatory Medical Loss Ratio: Constitutionality, Policy, and Implementation"
ExpressO
(2011)
Available at: http://works.bepress.com/wesley_markham/4/