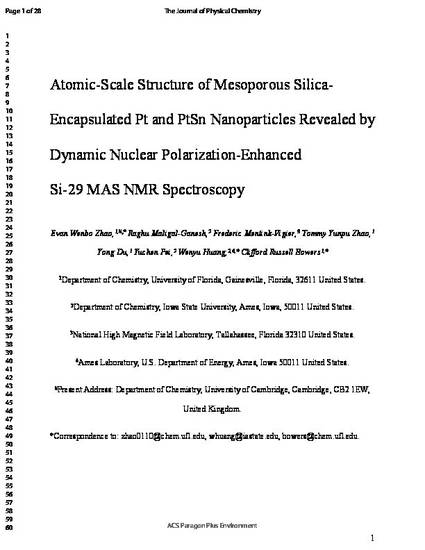 Article
Atomic-Scale Structure of Mesoporous Silica-Encapsulated Pt and PtSn Nanoparticles Revealed by Dynamic Nuclear Polarization-Enhanced Si-29 MAS NMR Spectroscopy
Journal of Physical Chemistry C
Publication Version
Submitted Manuscript
Publication Date
1-1-2019
DOI
10.1021/acs.jpcc.9b01782
Abstract
Mesoporous silica encapsulated Pt (Pt@mSiO2) and PtSn (PtSn@mSiO2) nanoparticles (NPs) are representatives of a novel class of heterogeneous catalysts with uniform particle size, enhanced catalytic properties, and superior thermal stability. In the ship-in-a-bottle synthesis, PtSn@mSiO2intermetallic NPs are derived from Pt@mSiO2 seeds where the mSiO2 shell is formed by polymerization of tetraethyl orthosilicate around a tetradecyltrimethylammonium bromide template, a surfactant used to template MCM-41. Incorporation of Sn into the Pt@mSiO2 seeds is accommodated by chemical etching of the mSiO2 shell. The effect of this etching on the atomic-scale structure of the mSiO2 has not been previously examined, nor has the extent of the structural similarity to MCM-41. Here, the quaternary Q2, Q3 and Q4 sites corresponding to formulas Si(O1/2)2(OH)2, Si(O1/2)3(OH)1 and Si(O1/2)4, in MCM-41 and the mesoporous silica of Pt@mSiO2 and PtSn@mSiO2 NPs were identified and quantified by conventional and dynamic nuclear polarization enhanced Si-29 Magic Angle Spinning Nuclear Magnetic Resonance (DNP MAS NMR). The connectivity of the -Si-O-Si- network was revealed by DNP enhanced two-dimensional 29Si-29Si correlation spectroscopy.
Copyright Owner
American Chemical Society
File Format
application/pdf
Citation Information
Evan Wenbo Zhao, Raghu Maligal-Ganesh, Frederic Mentink-Vigier, Tommy Yunpu Zhao, et al.. "Atomic-Scale Structure of Mesoporous Silica-Encapsulated Pt and PtSn Nanoparticles Revealed by Dynamic Nuclear Polarization-Enhanced Si-29 MAS NMR Spectroscopy"
Journal of Physical Chemistry C
(2019)
Available at: http://works.bepress.com/wenyu_huang/53/