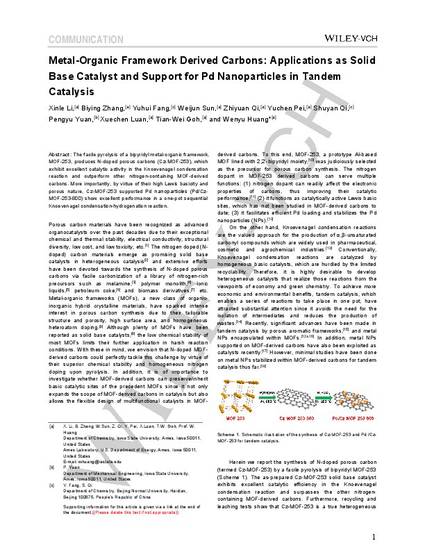 Article
Metal–Organic‐Framework‐Derived Carbons: Applications as Solid‐Base Catalyst and Support for Pd Nanoparticles in Tandem Catalysis
Chemistry - A European Journal
Publication Version
Accepted Manuscript
Publication Date
3-29-2017
DOI
10.1002/chem.201605852
Abstract
The facile pyrolysis of a bipyridyl metal‐organic framework, MOF‐253, produces N‐doped porous carbons (Cz‐MOF‐253), which exhibit excellent catalytic activity in the Knoevenagel condensation reaction and outperform other nitrogen‐containing MOF‐derived carbons. More importantly, by virtue of their high Lewis basicity and porous nature, Cz‐MOF‐253‐supported Pd nanoparticles (Pd/Cz‐MOF‐253‐800) show excellent performance in a one‐pot sequential Knoevenagel condensation‐hydrogenation reaction.
Copyright Owner
Wiley‐VCH Verlag GmbH & Co. KGaA, Weinheim
File Format
application/pdf
Citation Information
Xinle Li, Biying Zhang, Yuhui Fang, Weijun Sun, et al.. "Metal–Organic‐Framework‐Derived Carbons: Applications as Solid‐Base Catalyst and Support for Pd Nanoparticles in Tandem Catalysis"
Chemistry - A European Journal
Vol. 23 Iss. 18 (2017) p. 4266 - 4270
Available at: http://works.bepress.com/wenyu_huang/45/