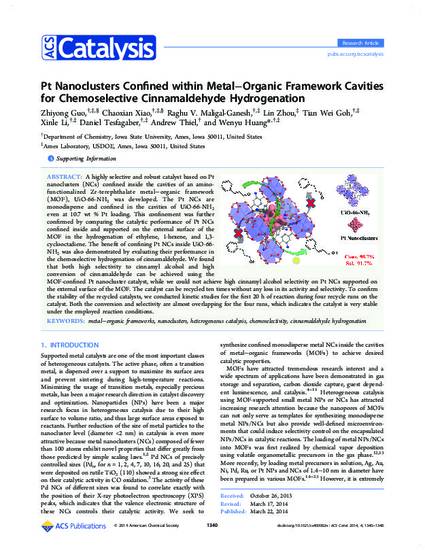 Article
Pt Nanoclusters Confined within Metal–Organic Framework Cavities for Chemoselective Cinnamaldehyde Hydrogenation
ACS Catalysis
Publication Version
Published Version
Publication Date
1-1-2014
Abstract
A highly selective and robust catalyst based on Pt nanoclusters (NCs) confined inside the cavities of an amino-functionalized Zr-terephthalate metal–organic framework (MOF), UiO-66-NH2 was developed. The Pt NCs are monodisperse and confined in the cavities of UiO-66-NH2 even at 10.7 wt % Pt loading. This confinement was further confirmed by comparing the catalytic performance of Pt NCs confined inside and supported on the external surface of the MOF in the hydrogenation of ethylene, 1-hexene, and 1,3-cyclooctadiene. The benefit of confining Pt NCs inside UiO-66-NH2 was also demonstrated by evaluating their performance in the chemoselective hydrogenation of cinnamaldehyde. We found that both high selectivity to cinnamyl alcohol and high conversion of cinnamaldehyde can be achieved using the MOF-confined Pt nanocluster catalyst, while we could not achieve high cinnamyl alcohol selectivity on Pt NCs supported on the external surface of the MOF. The catalyst can be recycled ten times without any loss in its activity and selectivity. To confirm the stability of the recycled catalysts, we conducted kinetic studies for the first 20 h of reaction during four recycle runs on the catalyst. Both the conversion and selectivity are almost overlapping for the four runs, which indicates the catalyst is very stable under the employed reaction conditions.
Copyright Owner
American Chemical Society
File Format
application/pdf
Citation Information
Zhiyong Guo, Chaoxian Xiao, Raghu V. Maligal-Ganesh, Lin Zhou, et al.. "Pt Nanoclusters Confined within Metal–Organic Framework Cavities for Chemoselective Cinnamaldehyde Hydrogenation"
ACS Catalysis
Vol. 4 Iss. 5 (2014) p. 1340 - 1348
Available at: http://works.bepress.com/wenyu_huang/3/