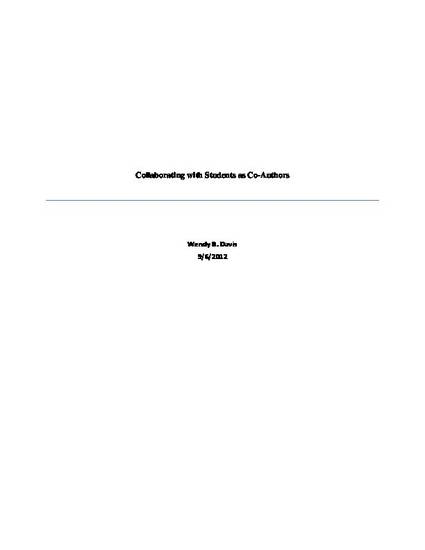 Article
Collaborating with Students as Co-authors
not yet (2012)
Abstract
Abstract: Collaborating With Students as Co-Authors By: Wendy B. Davis The purpose of this article is to describe the process of collaborating with students enrolled in a course to produce a casebook to be published after the conclusion of the course. I have written two published casebooks, with significant portions of each book written by students as contributing authors. Utilization of a variety of teaching methods facilitates learning by our students. While this article only describes one end- result, the creation of a casebook, the process of creating that book involves many different teaching methods, thus many different opportunities to address students' differing learning styles. Students learn best when they are allowed some independence, actively participate in the learning process, and are proud of the finished product. Collaborating with students to produce a casebook provided this environment.
Keywords
cognitive,
metacognitive,
teaching methods,
aviation,
mergers,
collaborative
Citation Information
Wendy B. Davis. "Collaborating with Students as Co-authors"
not yet
(2012)
Available at: http://works.bepress.com/wendybdavis/4/