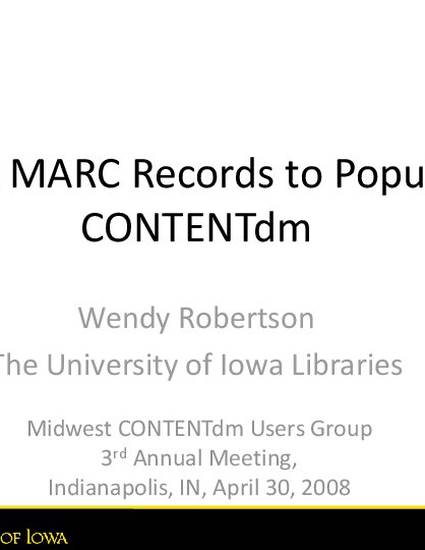 Presentation
Using MARC Records to Populate CONTENTdm
Midwest CONTENTdm Users Group 3rd Annual Meeting
Document Type
Speech/Presentation/Lecture
Publication Date
4-30-2008
Conference Location
Indianapolis, IN
Abstract
When previously cataloged collections are digitized, there is often quality metadata in MARC records that can be repurposed for CONTENTdm. Since Connexion digital import is not currently available for local installations of CONTENTdm, this session will explain an alternative workflow for local CONTENTdm. This presentation describes how to use the OCLC Connexion client to export Qualified Dublin Core metadata record, manipulate that output, and then import metadata into local CONTENTdm collections. This process can be used for previously cataloged materials, current materials being cataloging/edited, and records cataloged in the local system and batchloaded to WorldCat. The presentation will also cover some of the alterations an institution might make to the MARC data for better display in CONTENTdm.
Rights
Copyright © 2008 Wendy C. Robertson
Citation Information
Wendy Robertson. "Using MARC Records to Populate CONTENTdm"
Midwest CONTENTdm Users Group 3rd Annual Meeting
(2008)
Available at: http://works.bepress.com/wendy_robertson/10/