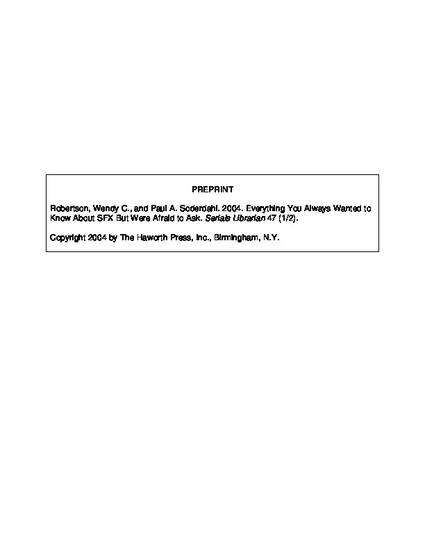 Article
Everything you always wanted to know about SFX but were afraid to ask
The Serials Librarian
Publication Date
12-16-2004
DOI of Published Version
10.1300/J123v47n01_09
Abstract
Link resolvers, including Ex Libris' SFX, use OpenURL to provide library patrons with context-sensitive links, such as the ability to move quickly from a citation in an abstracting and indexing database to the full text. In SFX, information for determining the appropriate links is maintained in the knowledge base, which contains details about a library's electronic holdings and other information about electronic information resources. This article describes SFX functionality, what the service looks like from a patron's point of view, and how it can be of particular assistance to a serials librarian.
Keywords
link resolver,
SFX,
OpenURL,
context-sensitive linking
Journal Article Version
Accepted Manuscript
Published Article/Book Citation
The Serials Librarian, 47:1/2 (2004), pp. 129-138. DOI: 10.1300/J123v47n01_09
Rights
Copyright © The Haworth Press, Inc., 2004. Posted by permission.
http://www.tandf.co.uk/journals/WSER
Article copies available from The Haworth Document Delivery Service: 1-800-HAWORTH. E-mail address: docdelivery@haworthpress.com
Citation Information
Wendy C Robertson and Paul A Soderdahl. "Everything you always wanted to know about SFX but were afraid to ask"
The Serials Librarian
Vol. 47 Iss. 1 (2004) p. 129 - 138 ISSN: 0361-526X
Available at: http://works.bepress.com/wendy_robertson/1/