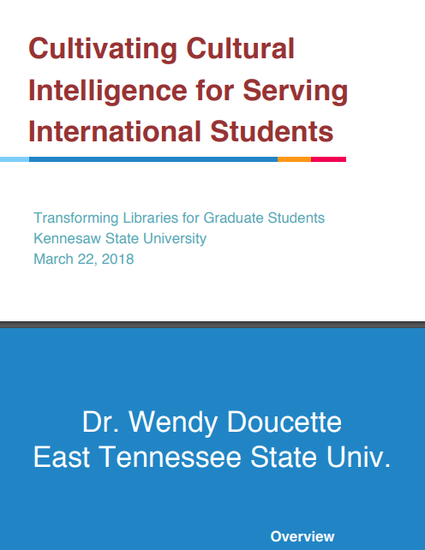 Presentation
Cultivating Cultural Intelligence for Serving International Students
Transforming Libraries for Graduate Students
Start Date
22-3-2018 1:15 PM
End Date
22-3-2018 2:15 PM
Presenter Status
Academic Librarian
Presentation Type
50 minutes (Open format, explain in Description below)
Description
We are proposing a 50-minute panel.
Presenters: Dr. Wendy Doucette, East Tennessee State University; Ms. Mandy Havert, University of Notre Dame; Dr. Kyung Kim, Florida State University
The number of international graduate students continues to rise at American universities nationwide. While academic librarians wish to serve this student population effectively, few of us have received formal training or meaningful exposure to this sector of our student populace. This panel will provide first-person experiences from academic librarians who are actively engaging with and researching international students. Acknowledging and encouraging cultural diversity fosters the awareness of building inclusivity into graduate programming. Rather than viewing international students as a challenge to be resolved with a one-size-fits-all approach, cultivating cultural intelligence makes us more thoughtful and effective instructors and service providers for all students. This panel will discuss
Tailoring services and support from the perspective of inclusivity for all students.
Empirical best practices and lessons learned from focus groups with international students
Tips for providing sessions tailored to multicultural audiences across the disciplines
Partnerships with International offices, programs, and groups on campus
The problem of academic writing
Shared aspects of the graduate student experience
Plagiarism and the academic honor code
Thoughts about future engagement
A current list of professional resources will be provided.
We anticipate audience discussion will be generated by this topic and will encourage participation through informal polling and direct questions.
Citation Information
Wendy Doucette, Mandy Havert and Kyunghye Kim. "Cultivating Cultural Intelligence for Serving International Students" (2018)
Available at: http://works.bepress.com/wendy-doucette/5/