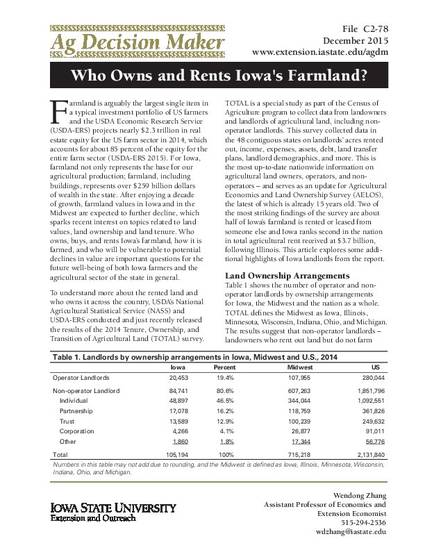 Other
Ag DM C2-78: Who owns and rents Iowa's farmland?
(2015)
Abstract
Farmland is arguably the largest single item in a typical investment portfolio of U.S. farmers and it accounts for about 85 percent of the equity for the entire farm sector (USDA-ERS 2015). For Iowa, farmland not only represents the base for our agricultural production; farmland, including buildings, represents over $259 billion
dollars of wealth in the state.
After enjoying a decade of growth, farmland values in Iowa and in the Midwest are expected to further decline, which sparks recent interest on topics related to land values, land ownership, and land tenure. Who owns, buys, and rents Iowa's farmland, how it is farmed, and who will be vulnerable to potential declines in value are important questions for the future wellbeing of both Iowa farmers and the agricultural sector of the state in general.
To understand more about rented land and who owns it across the country, USDA's National Agricultural Statistical Service (NASS) and USDA-ERS conducted and just recently released the results of the 2014 Tenure, Ownership, and Transition of Agricultural Land (TOTAL) survey. TOTAL is a special study as part of the Census of Agriculture program to collect data from landowners and landlords of agricultural land, including non-operator landlords. This survey collected data in the 48 contiguous states on landlords' acres rented out, income, expenses, assets, debt, land transfer plans, landlord demographics, and more.
Two of the most striking findings of the survey are: 1) about half of Iowa's farmland is rented or leased from someone else; and 2) Iowa ranks second in the nation in total agricultural rent received at $3.7 billion, following Illinois.
Publication Date
December, 2015
Citation Information
Wendong Zhang. "Ag DM C2-78: Who owns and rents Iowa's farmland?" (2015)
Available at: http://works.bepress.com/wendong_zhang/5/