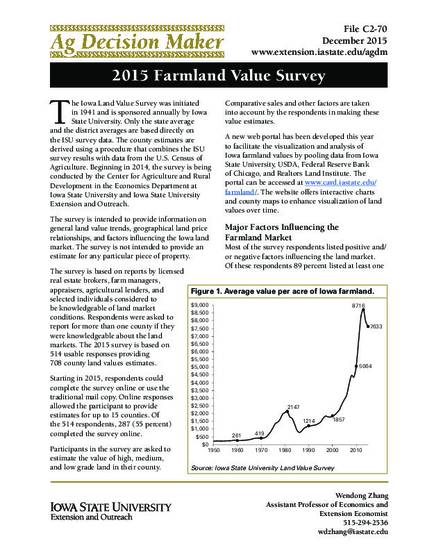 Other
Ag DM C2-70: 2015 Iowa Farmland Value Survey
(2015)
Abstract
The Iowa State University Land Value Survey reported a 3.9 percent decrease to $7,633 in Iowa farmland values from November 2014 to November 2015. This represents a modest decline in Iowa farmland values and the first time that land values have decreased two years in a row since 2000. However, despite continued downward pressures on farm income and farmland prices, current Iowa farmland values are still more than double what they were 10 years ago, 75 percent higher than the 2009 values and 14 percent higher than the 2011 values.
The 2015 survey revealed different conditions within the state. Only one crop reporting district, Northwest, reported a modest increase in land values, (0.7 percent), while North Central showed a 6.7 percent decrease. Additionally, seven counties reported higher land values in 2015 relative to 2014. This year's survey also revealed different patterns in land values across different land quality classes: while state-average values for high-quality land decreased 5 percent, there was only a mild 0.9 percent decline for low-quality farmland values.
The downward pressures on farmland values likely will continue to play out next year and beyond, but it will more likely be a rational and modest correction as opposed to a sudden change.
Publication Date
December, 2015
Citation Information
Wendong Zhang. "Ag DM C2-70: 2015 Iowa Farmland Value Survey" (2015)
Available at: http://works.bepress.com/wendong_zhang/4/