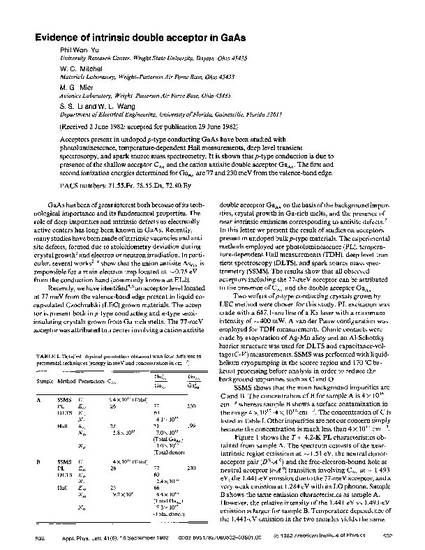 Article
Evidence of Intrinsic Double Acceptor in GaAs
Applied Physics Letters
Publication Date
1-1-1982
Abstract
Acceptors present in undoped p‐type conducting GaAs have been studied with photoluminescence, temperature‐dependent Hall measurements, deep level transient spectroscopy, and spark source mass spectrometry. It is shown that p‐type conduction is due to presence of the shallow acceptor CAs and the cation antisite double acceptor GaAs. The first and second ionization energies determined for GaAs are 77 and 230 meV from the valence‐band edge.
Citation Information
Phil Won Yu, W. C Mithel, M. G Mier, S. S Li, et al.. "Evidence of Intrinsic Double Acceptor in GaAs"
Applied Physics Letters
Vol. 41 Iss. 6 (1982) p. 532 - 534 ISSN: 0003-6951
Available at: http://works.bepress.com/weizhen_wang/4/