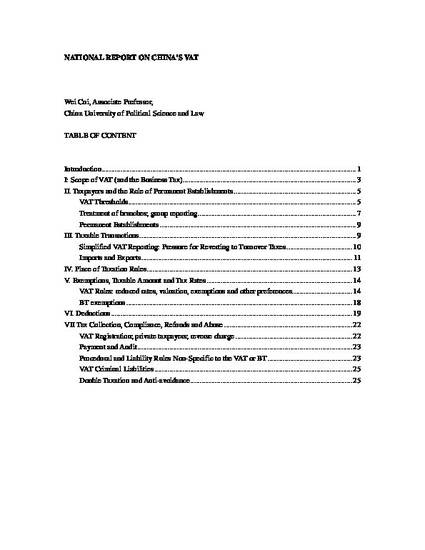 Contribution to Book
China
The Future of Indirect Taxation: Recent Trends in VAT and GST Systems around the World (2011)
Abstract
This paper provides an overview of China's idiosyncratic VAT as well as the related Business Tax (BT). BT law and practice are discussed only in connection with select conceptual issues such as the exclusion from the VAT/BT base, place of supply, etc. This decision is based on the considerations that many of the legal issues arising under the VAT cannot be properly discussed in connection with a cascading tax like the BT (as the economics of a cascading tax would undermine much of the logic of VAT rules), and that, when planning the integration of the BT into the VAT, it is the existing VAT rules examined here that will have to undergo further review and "stress tests".
Keywords
Value added tax,
consumption tax,
Chinese taxation
Editor
T. Ecker, M. Lang and I. Lejeune
Citation Information
"China", in T. Ecker, M. Lang and I. Lejeune (Eds.), The Future of Indirect Taxation: Recent Trends in VAT and GST Systems around the World (Kluwer, 2011), pp 159-89.