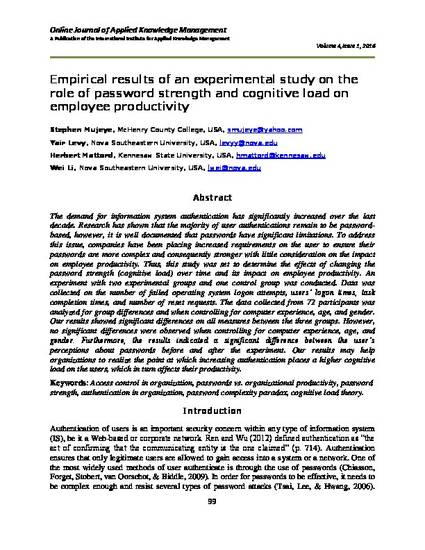 Article
Empirical results of an experimental study on the role of password strength and cognitive load on employee productivity
Online Journal of Applied Knowledge Management
Description
The demand or information system authentication has significantly increased over the last decade. Research has shown that the majority of user authentications remain to be password - based,however,itiswelldocumentedthatpasswordshavesignificantlimitations.Toaddress this issue,companieshavebeenplacingincreasedrequirementsontheusertoensuretheir passwords are more complex and consequently stronger with little consideration on the impact on employee productivity .Thus, this study was set to determine the effects of changing the password strength (cognitive load) overtime and its impact on employee productivity .A n experimentwithtwoexperimentalgroupsandonecontrolgroupwasconducted.Datawas collected on the number of failed operating system logon attempts, users' logon times, task completion times, and number of reset requests.Thedatacollectedfrom72participantswas analyzed for group differences and when controlling for computer experience, age, and gender. Our results showed significant differences on all measures between the three groups. However, no significant differences were observed when controlling for computer experience, age, and gender. Furthermore, the results indicated a significant difference between the user's perceptions about passwords before and after the experiment. Our results may help organizations to realize the point at which increasing authentication places a higher cognitive load on the users, which in turn affects their productivity.
Citation Information
Stephen Mujeye, Yair Levy, Herbert Mattord and Wei Li. "Empirical results of an experimental study on the role of password strength and cognitive load on employee productivity"
Online Journal of Applied Knowledge Management
Vol. 4 Iss. 1 (2016) p. 99 - 116
Available at: http://works.bepress.com/wei-li/15/