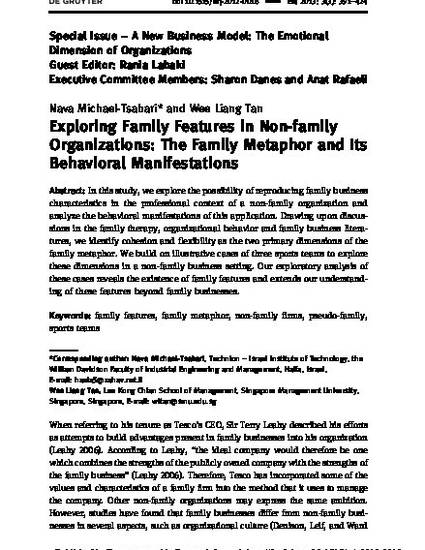 Article
Exploring Family Features in Non-Family Organizations: The Family Metaphor and its Behavioral Manifestations
Entrepreneurship Research Journal
Publication Type
Journal Article
Version
Publisher's Version
Abstract
In this study, we explore the possibility of reproducing family business characteristics in the professional context of a non-family organization and analyze the behavioral manifestations of this application. Drawing upon discussions in the family therapy, organizational behavior and family business literatures, we identify cohesion and flexibility as the two primary dimensions of the family metaphor. We build on illustrative cases of three sports teams to explore these dimensions in a non-family business setting. Our exploratory analysis of these cases reveals the existence of family features and extends our understanding of these features beyond family businesses.
Keywords
family features,
family metaphor,
non-family firms,
pseudo-family,
sports teams
Identifier
10.1515/erj-2012-0018
Creative Commons License
Creative Commons Attribution-Noncommercial-No Derivative Works 4.0
Additional URL
http://doi.org/10.1515/erj-2012-0018
Citation Information
Nava MICHAEL-TSABARI and Wee Liang TAN. "Exploring Family Features in Non-Family Organizations: The Family Metaphor and its Behavioral Manifestations"
Entrepreneurship Research Journal
Vol. 3 Iss. 3 (2013) p. 391 - 424 ISSN: 2157-5665
Available at: http://works.bepress.com/weeliang_tan/213/