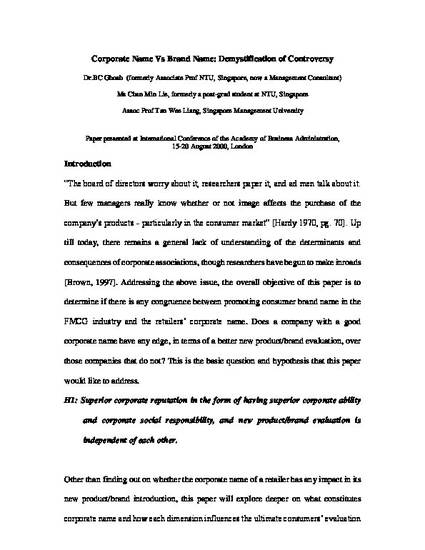 Article
Corporate Name vs Brand Name: Demystification of Controversy
International Conference of the Academy of Business Administration, 15-20 August 2000, London
Publication Type
Conference Paper
Abstract
The board of directors worry about it, researchers paper it, and ad men talk about it. But few managers really know whether or not image affects the purchase of the company's products - particularly in the consumer market" [Hardy 1970, pg. 70]. Up till today, there remains a general lack of understanding of the determinants and consequences of corporate associations, though researchers have begun to make inroads [Brown, 1997]. Addressing the above issue, the overall objective of this paper is to determine if there is any congruence between promoting consumer brand name in the FMCG industry and the retailers' corporate name. Does a company with a good corporate name have any edge, in terms of a better new product/brand evaluation, over those companies that do not? This is the basic question and hypothesis that this paper would like to address.
Copyright Owner and License
Authors
Citation Information
B. C. GHOSH, Min Lie CHAN and Wee Liang TAN. "Corporate Name vs Brand Name: Demystification of Controversy"
International Conference of the Academy of Business Administration, 15-20 August 2000, London
(2000)
Available at: http://works.bepress.com/weeliang_tan/21/