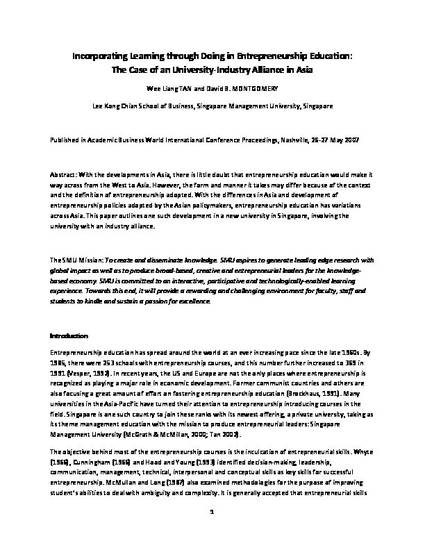 Article
Incorporating Learning through Doing in Entrepreneurship Education: The Case of an University Industry Alliance in Asia
Academic Business World International Conference, Nashville, 26-27 May 2007
Publication Type
Conference Paper
Abstract
With the developments in Asia, there is little doubt that entrepreneurship education would make it way across from the West to Asia. However, the form and manner it takes may differ because of the context and the definition of entrepreneurship adopted. With the differences in Asia and development of entrepreneurship policies adopted by the Asian policymakers, entrepreneurship education has variations across Asia. This paper outlines one such development in a new university in Singapore, involving the university with an industry alliance.
City or Country
Nashville, TN, USA
Creative Commons License
Creative Commons Attribution-Noncommercial-No Derivative Works 4.0
Additional URL
http://abwic.org/Proceedings/2007-ABW-Proceedings.pdf
Citation Information
Wee Liang TAN and David B. MONTGOMERY. "Incorporating Learning through Doing in Entrepreneurship Education: The Case of an University Industry Alliance in Asia"
Academic Business World International Conference, Nashville, 26-27 May 2007
(2007) p. 294 - 302
Available at: http://works.bepress.com/weeliang_tan/127/