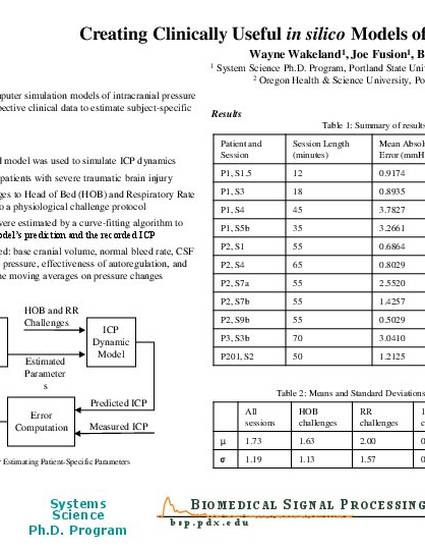 Article
Creating Clinically Useful In Silico Models of Intracranial Pressure Dynamics
Systems Science Faculty Publications and Presentations
Sponsor
This work was supported, in part, by the Thrasher Research Fund.
Publication Date
1-1-2005
Subjects
Intracranial pressure,
Biology -- Research,
Biology -- Computer simulation
Abstract
To create clinically useful computer simulation models of intracranial pressure (ICP) dynamics by using prospective clinical data to estimate subject-specific physiologic parameters.
Persistent Identifier
http://archives.pdx.edu/ds/psu/17768
Citation Information
Wakeland, W., Fusion, J., and Goldstein, B. Creating Clinically Useful in silico Models of Intracranial Pressure Dynamics. Poster presentation at the 4th International Conference on Complexity in Acute Illness (ICCAI), Cologne, 2005.