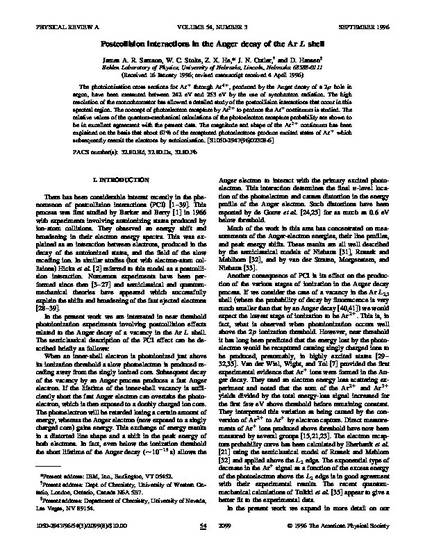 Article
Post-collision interactions in the Auger decay of the Ar L-shell
Physical Review A
Publication Date
9-1-1996
Abstract
The photoionization cross sections for Ar+ through Ar4+, produced by the Auger decay of a 2p hole in argon, have been measured between 242 eV and 253 eV by the use of synchrotron radiation. The high resolution of the monochromator has allowed a detailed study of the postcollision interactions that occur in this spectral region. The concept of photoelectron recapture by Ar2+ to produce the Ar+ continuum is studied. The relative values of the quantum-mechanical calculations of the photoelectron recapture probability are shown to be in excellent agreement with the present data. The magnitude and shape of the Ar2+ continuum has been explained on the basis that about 67% of the recaptured photoelectrons produce excited states of Ar+ which subsequently reemit the electrons by autoionization.
Keywords
Argon; Atomic orbitals; Auger effect; Electrons — Capture; Photoelectrons; Photoionization; Radioactive decay
Permissions
Copyright American Physical Society, used with permission
Citation Information
James A.R. Samson, Wayne C. Stolte, Z. X. He, J. N. Cutler, et al.. "Post-collision interactions in the Auger decay of the Ar L-shell"
Physical Review A
Vol. 54 Iss. 3 (1996) p. 2099 - 2106
Available at: http://works.bepress.com/wayne_stolte/20/