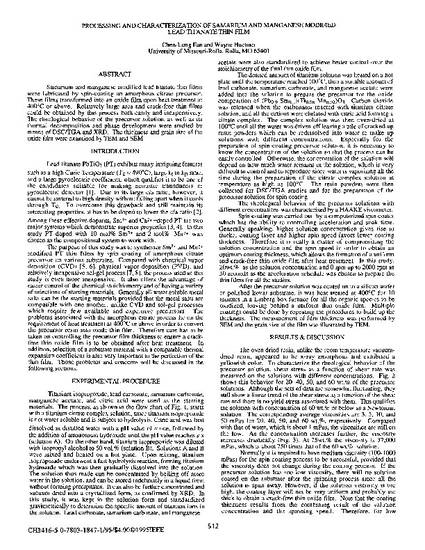 Article
Processing and Characterization of Samarium and Manganese Modified Lead Titanate Thin Film
Proceedings of the 9th IEEE International Symposium on Applications of Ferroelectrics, 1994
Abstract
Samarium and manganese modified lead titanate thin films were fabricated by spin-coating an amorphous citrate precursor. These films transformed into an oxide film upon heat treatment at 400 degrees Celcius or above. Relatively large area and crack-free thin films could be obtained by this process both easily and inexpensively. The rheological behavior of the precursor solution, as well as its thermal decomposition and phase development were studied by means of DSC/TGA and XRD. The thickness and grain size of the oxide film were examined by TEM and SEM.
Meeting Name
9th IEEE International Symposium on Applications of Ferroelectrics, 1994
Department(s)
Materials Science and Engineering
Keywords and Phrases
400 DegC,
DSC,
PbTiO3:Mn,
PbTiO3:Sm,
PbTiO3:Sm(Mn),
SEM,
TEM,
TGA,
X-Ray Diffraction,
XRD,
Amorphous Citrate Precursor,
Characterization,
Coating Techniques,
Ferroelectric Materials,
Ferroelectric Thin Films,
Film Thickness,
Grain Size,
Heat Treatment,
Lead Compounds,
Manganese,
Oxide Film,
Phase Development,
Piezoelectric Materials,
Piezoelectric Thin Films,
Precursor Solution,
Processing,
Pyrolysis,
Rheological Behavior,
Rheology,
Samarium,
Scanning Electron Microscopy,
Spin-Coating,
Thermal Analysis,
Thermal Decomposition,
Thin Films,
Transmission Electron Microscopy
Document Type
Article - Conference proceedings
Document Version
Final Version
Rights
© 1994 Institute of Electrical and Electronics Engineers (IEEE), All rights reserved.
Publication Date
1-1-1994
Citation Information
Chen-Lung Fan and Wayne Huebner. "Processing and Characterization of Samarium and Manganese Modified Lead Titanate Thin Film"
Proceedings of the 9th IEEE International Symposium on Applications of Ferroelectrics, 1994
(1994)
Available at: http://works.bepress.com/wayne-huebner/42/