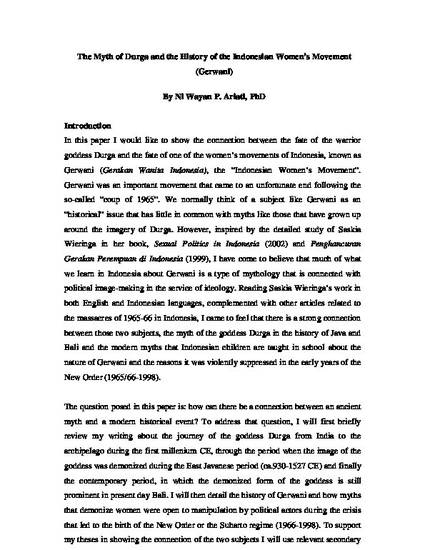 Presentation
The Myth of Durga and the History of the Indonesian Women's Movement (Gerwani)
Asia Research Institute (ARI) International Seminar (2010)
Abstract
In this paper I would like to show the connection between the fate of the warrior goddess Durga and the fate of one of the women's movements of Indonesia, known as Gerwani (Gerakan Wanita Indonesia), the "Indonesian Women's Movement". Gerwani was an important movement that came to an unfortunate end following the so-called "coup of 1965". We normally think of a subject like Gerwani as an "historical" issue that has little in common with myths like those that have grown up around the imagery of Durga. However, inspired by the detailed study of Saskia Wieringa in her book, Sexual Politics in Indonesia (2002) and Penghancuran Gerakan Perempuan di Indonesia (1999), I have come to believe that much of what we learn in Indonesia about Gerwani is a type of mythology that is connected with political image-making in the service of ideology. Reading Saskia Wieringa's work in both English and Indonesian languages, complemented with other articles related to the massacres of 1965-66 in Indonesia, I came to feel that there is a strong connection between those two subjects, the myth of the goddess Durga in the history of Java and Bali and the modern myths that Indonesian children are taught in school about the nature of Gerwani and the reasons it was violently suppressed in the early years of the New Order (1965/66-1998).
Publication Date
June, 2010
Citation Information
Wayan P Ariati. "The Myth of Durga and the History of the Indonesian Women's Movement (Gerwani)"
Asia Research Institute (ARI) International Seminar
(2010)
Available at: http://works.bepress.com/wayan_ariati/2/