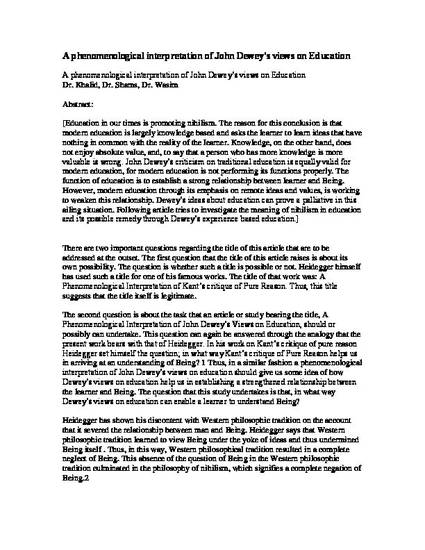 Article
A Phenomenological Interpretation of John Dewey's View on Education
Paradigms (2006)
Abstract
Education in our times is promoting nihilism. The reason for this conclusion is that modern education is largely knowledge based and asks the learner to learn ideas that have nothing in common with the reality of the learner. Knowledge, on the other hand, does not enjoy absolute value, and, to say that a person who has more knowledge is more valuable is wrong. John Dewey's criticism on traditional education is equally valid for modern education, for modern education is not performing its functions properly. The function of education is to establish a strong relationship between learner and Being. However, modern education through its emphasis on remote ideas and values, is working to weaken this relationship. Dewey's ideas about education can prove a palliative in this ailing situation. Following article tries to investigate the meaning of nihilism in education and its possible remedy through Dewey's experience based education.
Keywords
phenomenology,
phenomenological john dewey,
john dewey,
john dewey philosophy education
Citation Information
Wasim Qazi and Khalid Rawat. "A Phenomenological Interpretation of John Dewey's View on Education"
Paradigms
Vol. 1 & 2 (2006)
Available at: http://works.bepress.com/wasim_qazi/10/