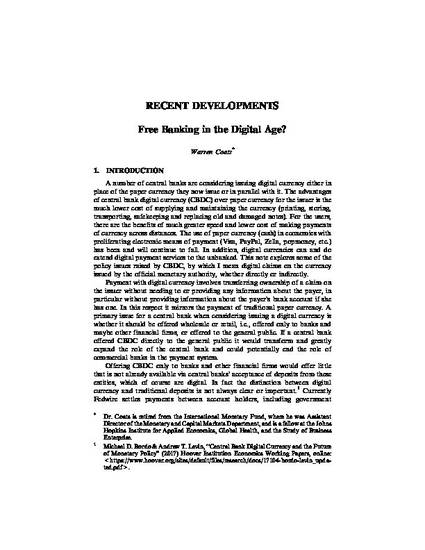 Article
Free Banking in the Digital Age
Banking & Finance Law Review (2018)
Abstract
 A number of central banks are considering issuing digital currency either in
place of the paper currency they now issue or in parallel with it. The advantages
of central bank digital currency (CBDC) over paper currency for the issuer is the
much lower cost of supplying and maintaining the currency (printing, storing,
transporting, safekeeping and replacing old and damaged notes). For the users,
there are the benefits of much greater speed and lower cost of making payments
of currency across distances. The use of paper currency (cash) in economies with
proliferating electronic means of payment (Visa, PayPal, Zella, popmoney, etc.)
has been and will continue to fall. In addition, digital currencies can and do
extend digital payment services to the unbanked. This note explores some of the
policy issues raised by CBDC, by which I mean digital claims on the currency
issued by the official monetary authority, whether directly or indirectly.
Keywords
free banking,
CBDC,
digital bank money,
central bank digital currency,
payments,
currency,
digital currency
Publication Date
September, 2018
Citation Information
Warren Coats. "Free Banking in the Digital Age"
Banking & Finance Law Review
Vol. 33 Iss. 3 (2018) p. 415 - 421 ISSN: 0832-8722
Available at: http://works.bepress.com/warren_coats/45/