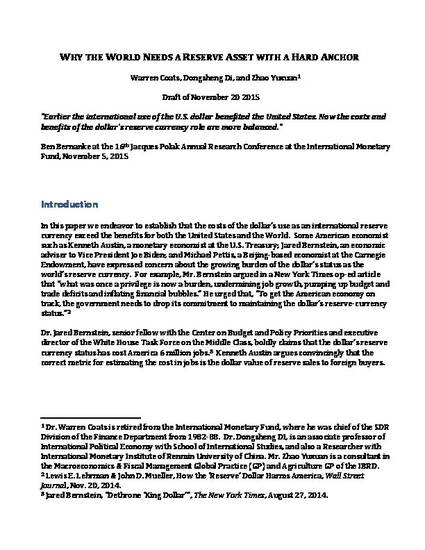 Unpublished Paper
Why the World needs a Reserve Asset with a Hard Anchor
(2015)
Abstract
The use of a national currency as the world's primary reserve asset has been widely criticized for various weaknesses. However, several weaknesses in the design of the SDR (their method of allocation, their limited uses, and initially the zero interest rate for using them) undermined interest in the SDR by the U.S. and other developed countries. This paper endeavors to establish that the costs of the dollar's use as an international reserve currency (e.g., offshoring of manufacturing) exceed the benefits for both the United States and the World. It also briefly summarizes recommendations developed earlier to replace national currencies with a real SDR currency board.
Keywords
IMF,
Special Drawing Rights,
SDRs,
Real SDR,
currency board,
international reserve assets,
reserve currency,
U.S. dollar,
Triffin dilemma,
exorbitant privilege,
debt,
fiscal discipline,
exchange rate volatility.
Publication Date
November, 2015
Citation Information
Warren Coats, Dongsheng Di and Yuxuan Zhao. "Why the World needs a Reserve Asset with a Hard Anchor" (2015)
Available at: http://works.bepress.com/warren_coats/34/