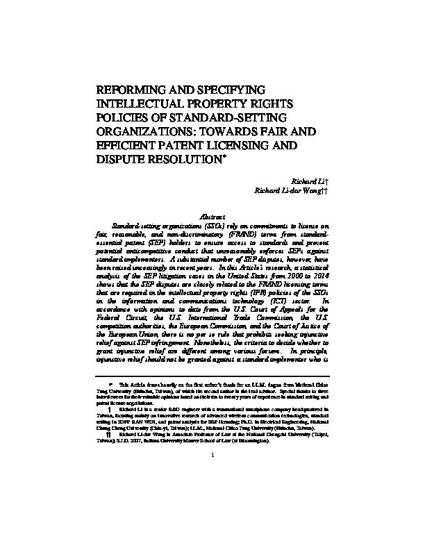 Article
Reforming and Specifying Intellectual Property Rights Policies of Standard-Setting Organizations: Towards Fair and Efficient Patent Licensing and Dispute Resolution
University of Illinois Journal of Law, Technology and Policy (2017)
Abstract
Standard-setting organizations (SSOs) rely on commitments to license on fair, reasonable, and non-discriminatory (FRAND) terms from standard-essential patent (SEP) holders to ensure access to standards and prevent potential anti-competitive conducts that unreasonably enforce SEPs against standard implementers. A substantial number of SEP disputes, however, have been raised unceasingly in recent years. In this research, a statistical analysis of the SEP litigation cases in the United States from 2000 to 2014 shows that the SEP disputes are closely related to the FRAND licensing terms that are required in the intellectual property rights (IPR) policies of the SSOs in the information and communications technology (ICT) sector. In accordance with opinions to date from the U.S. Court of Appeals for the Federal Circuit, the U.S. International Trade Commission, the U.S. competition authorities, the European Commission, and the Court of Justice of the European Union, there is no per se rule that prohibits seeking injunctive relief against SEP infringement. Nonetheless, the criteria to decide whether to grant injunctive relief are different among various forums. In principle, injunctive relief should not be granted against a standard implementer who is willing to take license and is still negotiating in good faith with the SEP holder, so that to be lined with the SEP holder's commitment to license on FRAND terms. With regard to FRAND royalties of SEPs, a fundamental principle emerging from several court decisions on SEP royalty in the United States is that a royalty award for an SEP should only be based on the value of the patented invention, not to include the value added from the standards.
Furthermore, through semi-structured interviews with standard-setting delegates and licensing negotiators from the ICT industry, this research finds that many existing IPR policies are too ambiguous to constrain potential anti-competitive conduct that enforces SEPs in an unreasonable way. In fact, in light of the results of the statistical survey, the case analysis, and the stakeholder interviews, it has become urgent and imperative to improve existing vague and ambiguous IPR policies. Concrete proposals for reforming IPR policies include: defining the standard essentiality clearly and using the accurate phrase "essential patent claim;" adding specific deadlines for SEP disclosure and declaration, legal effects of failing to disclose, and update obligations for material changes concerning SEPs; incorporating prerequisite conditions for seeking injunctive relief against SEP infringement; clarifying the FRAND obligation applicable to all offers of SEP royalties during licensing negotiations; identifying a series of steps or key factors for SEP royalty calculation under the FRAND obligation; and allowing reciprocal license to be a precondition for the commitment to license on FRAND terms. These proposals could substantially strengthen existing IPR policies, fix their ambiguities, and avoid potential disputes. 
Finally, this research investigates 15 representative SSOs, examining whether their IPR policies conform to the reforming proposals, by way of which the author further elaborates on these proposals and provides substantial suggestions on how to amend the existing policies of the representative SSOs to avoid potential disputes. Based on the statistical and qualitative analysis and the specific reforming proposals, this article concludes that it is imperative to reform existing IPR policies to facilitate fair and efficient SEP licensing and dispute resolution, therefore to promote competition and to benefit consumers around the world ultimately.
Keywords
standard-setting organization,
IPR Policy,
Standard Essential Patent,
FRAND Term,
Injunction
Publication Date
Spring 2017
Citation Information
Richard Li and Richard Li-dar Wang. "Reforming and Specifying Intellectual Property Rights Policies of Standard-Setting Organizations: Towards Fair and Efficient Patent Licensing and Dispute Resolution"
University of Illinois Journal of Law, Technology and Policy
Vol. 2017 Iss. 1 (2017)
Available at: http://works.bepress.com/wang_li-dar/10/