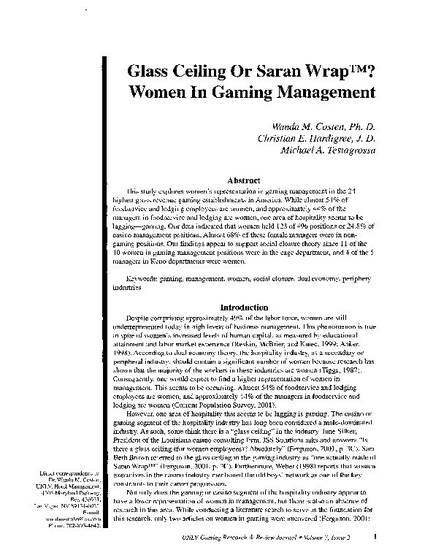 Article
Glass Ceiling Or Saran Wrap™? Women In Gaming Management
UNLV Gaming Research & Review Journal
Keywords
Gaming,
management,
women,
social closure,
dual economy,
periphery industries
Document Type
Original Research Article
Abstract
This study explores women's representation in gaming management in the 24 highest gross revenue gaming establishments in America. While almost 54% of foodservice and lodging employees are women, and approximately 44% of the managers in foodservice and lodging are women, one area of hospitality seems to be lagging-gaming. Our data indicated that women held 123 of 496 positions or 24.8% of casino management positions. Almost 68% of these female managers were in non-gaming positions. Our findings appear to support social closure theory since 11 of the 40 women in gaming management positions were in the cage department, and 4 of the 5 managers in Keno departments were women.
Citation Information
Wanda M. Costen, Christian E. Hardigree and Michael A. Testagrossa. "Glass Ceiling Or Saran Wrap™? Women In Gaming Management"
Available at: http://works.bepress.com/wanda_costen/3/