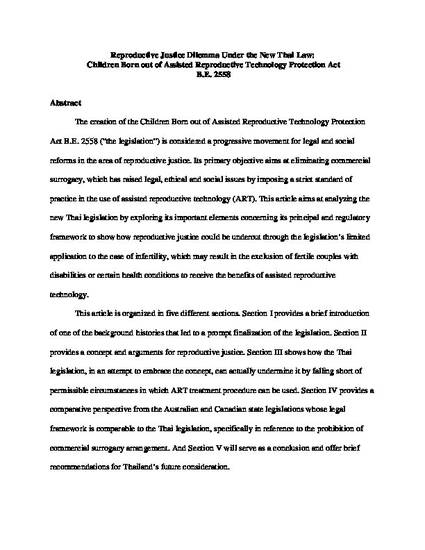 Unpublished Paper
Reproductive Justice Dilemma Under the New Thai Law: Children Born out of Assisted Reproductive Technology Protection Act B.E. 2558
ExpressO (2015)
Abstract
The creation of the Children Born out of Assisted Reproductive Technology Protection Act B.E. 2558 ("the legislation") is considered a progressive movement for legal and social reforms in the area of reproductive justice. Its primary objective aims at eliminating commercial surrogacy, which has raised legal, ethical and social issues by imposing a strict standard of practice in the use of assisted reproductive technology (ART). This article aims at analyzing the new Thai legislation by exploring its important elements concerning its principal and regulatory framework to show how reproductive justice could be undercut through the legislation's limited application to the case of infertility, which may result in the exclusion of fertile couples with disabilities or certain health conditions to receive the benefits of assisted reproductive technology. This article is organized in five different sections. Section I provides a brief introduction of one of the background histories that led to a prompt finalization of the legislation. Section II provides a concept and arguments for reproductive justice. Section III shows how the Thai legislation, in an attempt to embrace the concept, can actually undermine it by falling short of permissible circumstances in which ART treatment procedure can be used. Section IV provides a comparative perspective from the Australian and Canadian state legislations whose legal framework is comparable to the Thai legislation, specifically in reference to the prohibition of commercial surrogacy arrangement. And Section V will serve as a conclusion and offer brief recommendations for Thailand's future consideration.
Keywords
Reproductive rights,
surrogacy,
assisted reproductive technology
Publication Date
October 30, 2015
Citation Information
Wanaporn Techagaisiyavanit. "Reproductive Justice Dilemma Under the New Thai Law: Children Born out of Assisted Reproductive Technology Protection Act B.E. 2558"
ExpressO
(2015)
Available at: http://works.bepress.com/wanaporn_techagaisiyavanit/1/