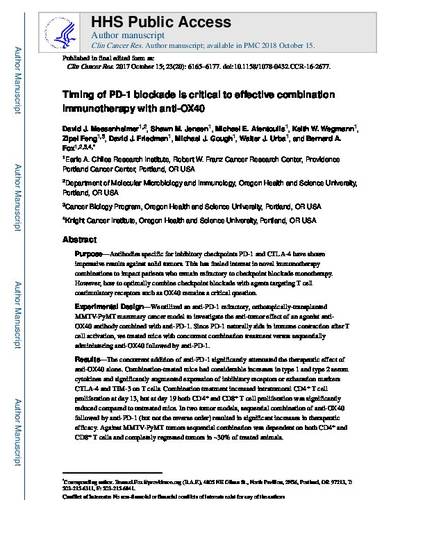 Article
Timing of PD-1 Blockade Is Critical to Effective Combination Immunotherapy with Anti-OX40.
Clinical cancer research : an official journal of the American Association for Cancer Research
Publication Date
10-15-2017
Keywords
Animals,
Antineoplastic Agents, Immunological,
Antineoplastic Combined Chemotherapy Protocols,
Cytokines,
Disease Models, Animal,
Female,
Humans,
Immunophenotyping,
Immunotherapy,
Lymphocyte Count,
Lymphocytes, Tumor-Infiltrating,
Mice,
Mice, Transgenic,
Molecular Targeted Therapy,
Programmed Cell Death 1 Receptor,
Receptors, Antigen, T-Cell,
Receptors, OX40,
Survival Rate,
T-Lymphocyte Subsets,
Time Factors,
Treatment Outcome,
Xenograft Model Antitumor Assays
Abstract
Purpose: Antibodies specific for inhibitory checkpoints PD-1 and CTLA-4 have shown impressive results against solid tumors. This has fueled interest in novel immunotherapy combinations to affect patients who remain refractory to checkpoint blockade monotherapy. However, how to optimally combine checkpoint blockade with agents targeting T-cell costimulatory receptors, such as OX40, remains a critical question.Experimental Design: We utilized an anti-PD-1-refractory, orthotopically transplanted MMTV-PyMT mammary cancer model to investigate the antitumor effect of an agonist anti-OX40 antibody combined with anti-PD-1. As PD-1 naturally aids in immune contraction after T-cell activation, we treated mice with concurrent combination treatment versus sequentially administering anti-OX40 followed by anti-PD-1.Results: The concurrent addition of anti-PD-1 significantly attenuated the therapeutic effect of anti-OX40 alone. Combination-treated mice had considerable increases in type I and type II serum cytokines and significantly augmented expression of inhibitory receptors or exhaustion markers CTLA-4 and TIM-3 on T cells. Combination treatment increased intratumoral CD4+ T-cell proliferation at day 13, but at day 19, both CD4+ and CD8+ T-cell proliferation was significantly reduced compared with untreated mice. In two tumor models, sequential combination of anti-OX40 followed by anti-PD-1 (but not the reverse order) resulted in significant increases in therapeutic efficacy. Against MMTV-PyMT tumors, sequential combination was dependent on both CD4+ and CD8+ T cells and completely regressed tumors in approximately 30% of treated animals.Conclusions: These results highlight the importance of timing for optimized therapeutic effect with combination immunotherapies and suggest the testing of sequencing in combination immunotherapy clinical trials. Clin Cancer Res; 23(20); 6165-77. ©2017 AACRSee related commentary by Colombo, p. 5999.
Clinical Institute
Cancer
Department
Earle A. Chiles Research Institute
Citation Information
David J Messenheimer, Shawn M Jensen, Michael E Afentoulis, Keith W Wegman, et al.. "Timing of PD-1 Blockade Is Critical to Effective Combination Immunotherapy with Anti-OX40."
Clinical cancer research : an official journal of the American Association for Cancer Research
(2017)
Available at: http://works.bepress.com/walter-urba/305/