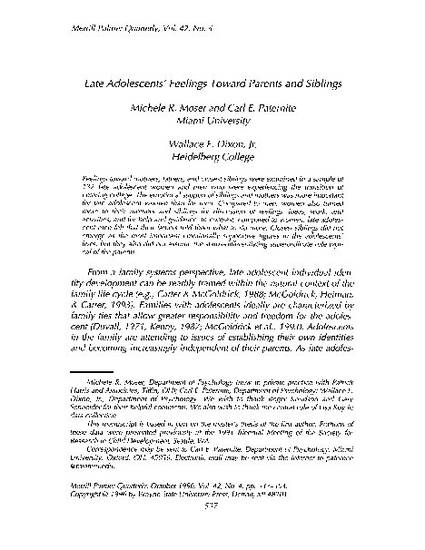 Article
Late Adolescents' Feelings Towards Parents and Siblings
Merrill-Palmer Quarterly (1996)
Abstract
Feelings toward mothers, fathers, and closest siblings were examined in a sample of 132 late adolescent women and men who were experiencing the transition of entering college. The emotional support of siblings and mothers was more important for late adolescent women than for men. Compared to men, women also turned more to their mothers and siblings for discussion of feelings, ideas, work, and activities, and for help and guidance. In contrast, compared to women, late adolescent men felt that their fathers told them what to do more. Closest siblings did not emerge as the most important emotionally supportive figures in the adolescents' lives, but they also did not assume the status-differentiating superordinate role typical of the parents.
Keywords
Late Adolescents',
Feelings,
Parents,
Siblings
Citation Information
Wallace E. Dixon Jr., M Moser and C E Paternite. "Late Adolescents' Feelings Towards Parents and Siblings"
Merrill-Palmer Quarterly
Vol. 42 (1996) p. 537 - 553 ISSN: 0272-930X
Available at: http://works.bepress.com/wallace-dixon/16/