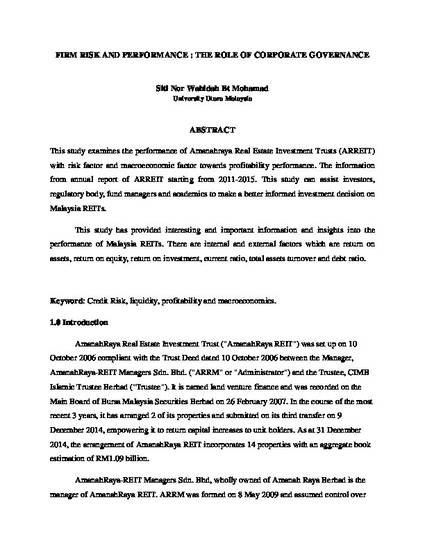 Unpublished Paper
THE ROLE OF CORPORATE GOVERNANCE AND ITS IMPACT ON RISK AND FIRM PERFORMANCE OF REAL ESTATE INDUSTRY: AMANAHRAYA REIT
(2017)
Abstract
This study examines the performance of Amanahraya Real Estate Investment Trusts (ARREIT) with risk factor and macroeconomic factor towards profitability performance. The information from annual report of ARREIT starting from 2011-2015. This study can assist investors, regulatory body, fund managers and academics to make a better informed investment decision on Malaysia REITs.
This study has provided interesting and important information and insights into the performance of Malaysia REITs. There are internal and external factors which are return on assets, return on equity, return on investment, current ratio, total assets turnover and debt ratio.
Keywords
Credit risk,
liquidity,
profitability and macroeconomics.
Publication Date
Spring April 16, 2017
Citation Information
Wahidah Mohamad. "THE ROLE OF CORPORATE GOVERNANCE AND ITS IMPACT ON RISK AND FIRM PERFORMANCE OF REAL ESTATE INDUSTRY: AMANAHRAYA REIT" (2017)
Available at: http://works.bepress.com/wahidah-mohamad/1/