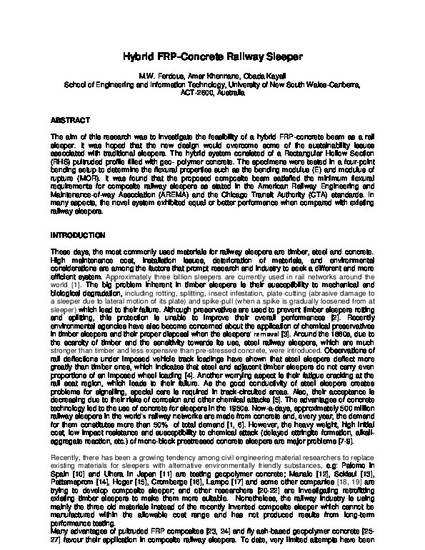 Presentation
Hybrid FRP-concrete railway sleeper
6th International Conference on Advanced Composites in Construction, ACIC 2013 (2013)
Abstract
The aim of this research was to investigate the feasibility of a hybrid FRP-concrete beam as a rail sleeper. It was hoped that the new design would overcome some of the sustainability issues associated with traditional sleepers. The hybrid system consisted of a Rectangular Hollow Section (RHS) pultruded profile filled with geo- polymer concrete. The specimens were tested in a four-point bending setup to determine the flexural properties such as the bending modulus (E) and modulus of rupture (MOR). It was found that the proposed composite beam satisfied the minimum flexural requirements for composite railway sleepers as stated in the American Railway Engineering and Maintenance-of-way Association (AREMA) and the Chicago Transit Authority (CTA) standards. In many aspects, the novel system exhibited equal or better performance when compared with existing railway sleepers.
Publication Date
September 10, 2013
Citation Information
Wahid Ferdous, Amar Khennane and Obada Kayali. "Hybrid FRP-concrete railway sleeper"
6th International Conference on Advanced Composites in Construction, ACIC 2013
(2013)
Available at: http://works.bepress.com/wahid_ferdous/8/