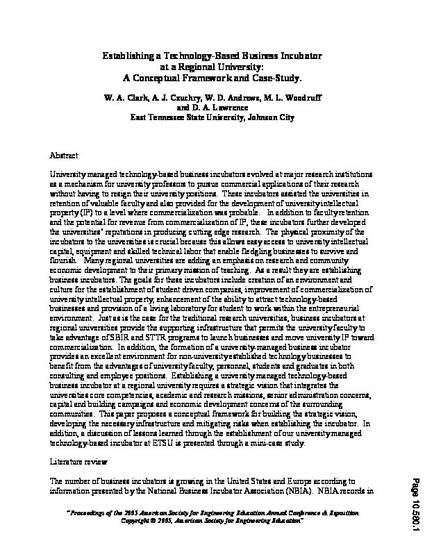 Article
Establishing A Technology Based Business Incubator At A Regional University: A Conceptual Framework And Case Study
Proceedings of the 2005 American Society for Engineering Education Annual Conference & Exposition
Document Type
Conference Proceeding
Publication Date
6-12-2005
Description
University managed technology-based business incubators evolved at major research institutions as a mechanism for university professors to pursue commercial applications of their research without having to resign their university positions. These incubators assisted the universities in retention of valuable faculty and also provided for the development of university intellectual property (IP) to a level where commercialization was probable. In addition to faculty retention and the potential for revenue from commercialization of IP, these incubators further developed the universities' reputations in producing cutting edge research. The physical proximity of the incubators to the universities is crucial because this allows easy access to university intellectual capital, equipment and skilled technical labor that enable fledgling businesses to survive and flourish. Many regional universities are adding an emphasis on research and community economic development to their primary mission of teaching. As a result they are establishing business incubators. The goals for these incubators include creation of an environment and culture for the establishment of student driven companies, improvement of commercialization of university intellectual property, enhancement of the ability to attract technology-based businesses and provision of a living laboratory for student to work within the entrepreneurial environment. Just as is the case for the traditional research universities, business incubators at regional universities provide the supporting infrastructure that permits the university faculty to take advantage of SBIR and STTR programs to launch businesses and move university IP toward commercialization. In addition, the formation of a university-managed business incubator provides an excellent environment for non-university established technology businesses to benefit from the advantages of university faculty, personnel, students and graduates in both consulting and employee positions. Establishing a university managed technology-based business incubator at a regional university requires a strategic vision that integrates the universities core competencies, academic and research missions, senior administration concerns, capital and building campaigns and economic development concerns of the surrounding communities. This paper proposes a conceptual framework for building the strategic vision, developing the necessary infrastructure and mitigating risks when establishing the incubator. In addition, a discussion of lessons learned through the establishment of our university managed technology-based incubator at ETSU is presented through a mini-case study.
Citation Information
W. Andrew Clark. "Establishing A Technology Based Business Incubator At A Regional University: A Conceptual Framework And Case Study"
Proceedings of the 2005 American Society for Engineering Education Annual Conference & Exposition
(2005) p. 10.580.1 - 10.580.16 ISSN: 2153-5965
Available at: http://works.bepress.com/w-andrew-clark/30/