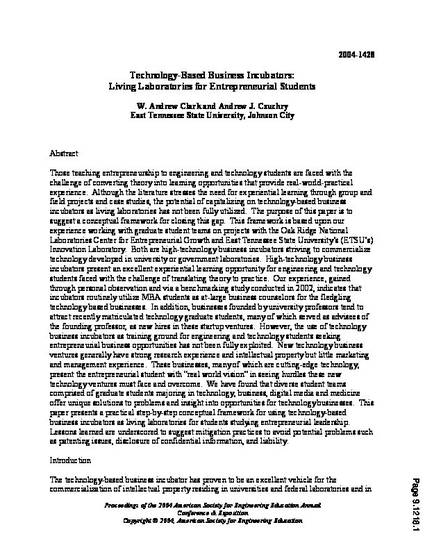 Article
Technology Based Business Incubators: Living Laboratories For Entrepreneurial Students
Proceedings of the 2004 American Society for Engineering Education Annual Conference & Exposition
Document Type
Conference Proceeding
Publication Date
6-20-2004
Description
Those teaching entrepreneurship to engineering and technology students are faced with the challenge of converting theory into learning opportunities that provide real-world-practical experience. Although the literature stresses the need for experiential learning through group and field projects and case studies, the potential of capitalizing on technology-based business incubators as living laboratories has not been fully utilized. The purpose of this paper is to suggest a conceptual framework for closing this gap. This framework is based upon our experience working with graduate student teams on projects with the Oak Ridge National Laboratories Center for Entrepreneurial Growth and East Tennessee State University's (ETSU's) Innovation Laboratory. Both are high-technology business incubators striving to commercialize technology developed in university or government laboratories. High-technology business incubators present an excellent experiential learning opportunity for engineering and technology students faced with the challenge of translating theory to practice. Our experience, gained through personal observation and via a benchmarking study conducted in 2002, indicates that incubators routinely utilize MBA students as at-large business counselors for the fledgling technology based businesses. In addition, businesses founded by university professors tend to attract recently matriculated technology graduate students, many of which served as advisees of the founding professor, as new hires in these startup ventures. However, the use of technology business incubators as training ground for engineering and technology students seeking entrepreneurial business opportunities has not been fully exploited. New technology business ventures generally have strong research experience and intellectual property but little marketing and management experience. These businesses, many of which are cutting-edge technology, present the entrepreneurial student with "real world vision" in seeing hurdles these new technology ventures must face and overcome. We have found that diverse student teams comprised of graduate students majoring in technology, business, digital media and medicine offer unique solutions to problems and insight into opportunities for technology businesses. This paper presents a practical step-by-step conceptual framework for using technology-based business incubators as living laboratories for students studying entrepreneurial leadership. Lessons learned are underscored to suggest mitigation practices to avoid potential problems such as patenting issues, disclosure of confidential information, and liability.
Location
Salt Lake City, UT
Citation Information
Andrew Czuchry and W. Andrew Clark. "Technology Based Business Incubators: Living Laboratories For Entrepreneurial Students"
Proceedings of the 2004 American Society for Engineering Education Annual Conference & Exposition
(2004) p. 9.1218.1 - 9.1218.14 ISSN: 2153-5965
Available at: http://works.bepress.com/w-andrew-clark/23/