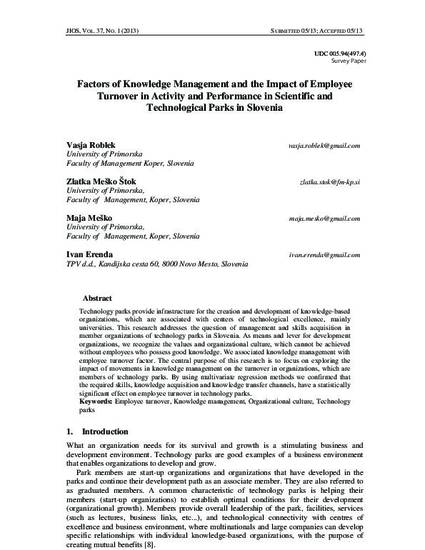 Article
Factors of Knowledge Management and the impact of employee turnover in activity and performance in Technology parks in Slovenia
Journal of Information and Organizational Sciences (2013)
Abstract
Technology parks provide infrastructure for the creation and development of knowledge-based organizations, which are associated with centers of technological excellence, mainly universities. This research addresses the question of management and skills acquisition in member organizations of technology parks in Slovenia. As means and lever for development organizations, we recognize the values and organizational culture, which cannot be achieved without employees who possess good knowledge. We associated knowledge management with employee turnover factor. The central purpose of this research is to focus on exploring the impact of movements in knowledge management on the turnover in organizations, which are members of technology parks. By using multivariate regression methods we confirmed that the required skills, knowledge acquisition and knowledge transfer channels, have a statistically significant effect on employee turnover in technology parks.
Keywords
Employee Turnover,
Organizational Culture,
Knowledge Management,
Technology Parks
Publication Date
Summer September, 2013
Citation Information
Vasja Roblek, Zlatka Mešk Štok, Maja Meško and Ivan Erenda. "Factors of Knowledge Management and the impact of employee turnover in activity and performance in Technology parks in Slovenia"
Journal of Information and Organizational Sciences
Vol. 37 Iss. 1 (2013)
Available at: http://works.bepress.com/vroblek/3/