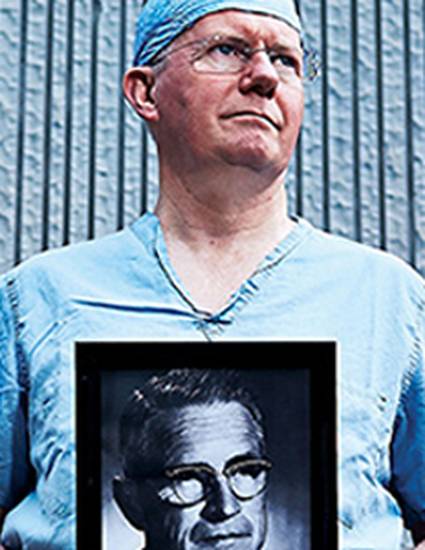 Popular Press
A surgical legacy
Rapport (2015)
Abstract
The chair assumes a place of honour next to Dr. Vivian McAlister's desk in the Transplant Unit at University Hospital. Strong, sturdy, and well designed, its round shape offers a comfortable sitting—despite its firm construction.
A shiny, brass plaque at the centre of the chair pays homage to Dr. Angus D. McLachlin, MD'32. The Chief, as he is still referred, served as the Chair of the Department of Surgery from 1945 to 1974.
The chair serves as a symbol of the Angus D. McLachlin Professorship in Surgery. It will remain with Dr. McAlister throughout his term as the McLachlin Professor—just as it has with each of the holders of the Professorship since its inception.
The Angus D. McLachlin Professorship was established in 1991 through the generous support of former trainees and colleagues—in honour of Dr. McLachlin's dedication and contributions as an esteemed teacher and clinician.
The Professorship provides funding to a surgeon who has a strong focus on surgical education and teaching. And with that, the holder has an opportunity to spend time away from the clinic to advance surgical education and teaching. For example, Dr. Edward Meads, MD'63, directed the available funding to support medical students to pursue global health electives overseas. Meanwhile, Dr. Brian Taylor, MD'75, helped to revamp the surgical curriculum for undergraduate medical education.
Citation Information
Jennifer Parraga. "A surgical legacy"
Rapport
(2015)
Available at: http://works.bepress.com/vivianmcalister/298/