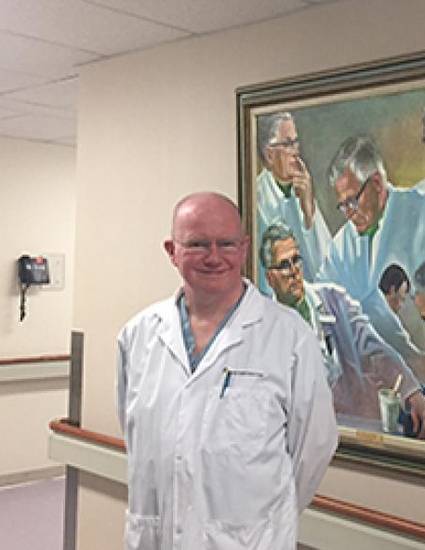 Popular Press
Dr. Vivian McAlister awarded the Canadian Medical Association's John McCrae Memorial Medal
LHSC website (2019)
Abstract
Congratulations to Dr. Vivian McAlister, senior transplant surgeon at LHSC, for being selected as this year's recipient of the Canadian Medical Association's John McCrae Memorial Medal.
The prestigious John McCrae Memorial Medal is given to a member of clinical health services in the Canadian Armed Forces based on exemplary service demonstrating traits such as compassion, self-sacrifice, or innovation beyond the call of duty that have greatly benefitted the health or welfare of fellow military personnel or civilian populations.
In 2007, Dr. McAlister first volunteered to assist Canada's military and serve as a trauma surgeon in Afghanistan. That experience at the Role 3 Hospital at Kandahar Airfield convinced him to join the Canadian Forces Health Services (CFHS). After several deployments in Afghanistan and one in Haiti following the 2010 earthquake, the Canadian Forces awarded him four distinctions: three for Afghanistan – General Service Medal, General Campaign Star, and Surgeon General's Commendation, and one for Haiti – Operation Service Medal.
Dr. McAlister analyzed trauma protocols to improve the care of the injured. He has published papers on trauma resuscitation, war surgery, and patterns of injury from explosives in the Journal of Trauma, the Canadian Journal of Surgery and the British Medical Journal. In 2011, at the Annual Meeting of the Canadian Association of General Surgeons, he organized and directed a full-day course on mass casualty training for general surgeons. Since 2015, he's been the Specialty Practice Leader for General Surgery in the CFHS. He supervises the training of general surgeons who are deployed on behalf of Canada, and in this capacity he is also Advisor to the Surgeon General.
Working with past Medal recipient and LHSC critical care physician Dr. Raymond Kao, Dr. McAlister helped establish the NATO Role 3 Multinational Medical Unit (R3MMU) in Afghanistan. This was the first NATO multinational field hospital involved in combat operations. He has helped rebuild the Afghan health-care system by elevating their postgraduate education programs and residency training using the CanMEDS model, as well as mentoring their faculty with the goal of transitioning the education platform into an Afghan-dependent model.
As a most deserving recipient of this award, LHSC congratulates Dr. McAlister again for his tremendous service in helping others.
Publication Date
May 1, 2019
Citation Information
London Health Sciences Centre. "Dr. Vivian McAlister awarded the Canadian Medical Association's John McCrae Memorial Medal"
LHSC website
(2019)
Available at: http://works.bepress.com/vivianmcalister/267/