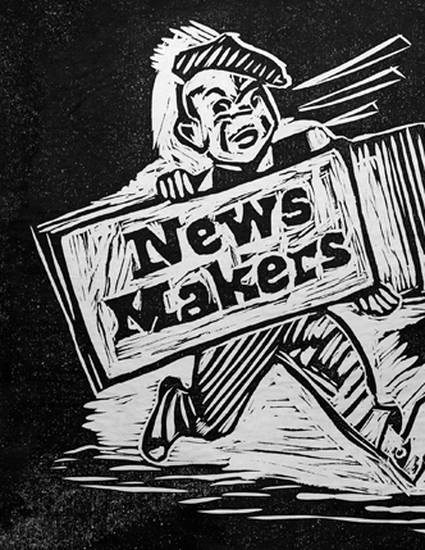 Popular Press
Western News looks back on 2017
Western News (2017)
Abstract
We are certain Igor Sergeyevich Gouzenko had no idea what he started.
In 1945, Gouzenko, a cipher clerk at the Soviet Embassy in Ottawa, sparked an international incident when he defected to Canada. The move would have gone unnoticed by history, or at best relegated to footnote status, had Gouzenko not brought along more than 100 documents proving the existence of a Soviet spy ring in Canada.
The ensuing firestorm, and intense distrust and paranoia created by the discovery, helped fuel the Cold War. As you might guess, that decision would colour the rest of Gouzenko's life, much of it spent in hiding under an assumed name until his death in 1982.
But his actions also changed something fundamental about how we cover the news.
Or, at least, how we review it.
In 1946, the Canadian Press (CP) named Gouzenko its first Canadian Newsmaker of the Year. Ever since, media outlets across Canada and the world have paused each year's end to reflect on individuals who shaped the year that was.
CP continues the tradition to this day. Last year, the wire service named Gord Downie the winner after his fight with terminal brain cancer struck a chord with Canadians. Pierre Trudeau received the honour eight straight times from 1968-75, and 11 times overall. Trudeau The Younger was so honoured for the first time in 2015.
Although unique to Canada in 1946, the Newsmaker practice wasn't a new idea for mainstream media even then. Time magazine had been naming a Man of the Year (changed to Person of the Year in 1999) since 1927.
That year, they chose Charles Lindbergh. At 25, he remains the youngest selection to date.
The magazine's move, however, was not based on celebrating an aviation pioneer, but on covering its own backside. In one of the great underplays in journalistic history, Time magazine failed to put Lindbergh on the cover of its magazine the week after he became the first person to fly solo across the Atlantic Ocean. Andre Tardieu, who two years later would rise to prime minister of France, took the cover that day.
Seemingly every year since, every newspaper and magazine has come up with its own version of the tradition. Part contemplative retrospective, part generating news during the calendar's slowest period, newsmakers are one of those old-time traditions we cannot help but love.
Today, we offer you the 8
th
 annual 
Western News
 Newsmakers of the Year – a celebration of some of the people, places and things that shaped the year at this institution.
Before we start looking ahead to 2018 – we take one last look at 2017.
Here's to the year that was.
Publication Date
December 14, 2017
Citation Information
WESTERN NEWS STAFF. "Western News looks back on 2017"
Western News
(2017)
Available at: http://works.bepress.com/vivianmcalister/251/