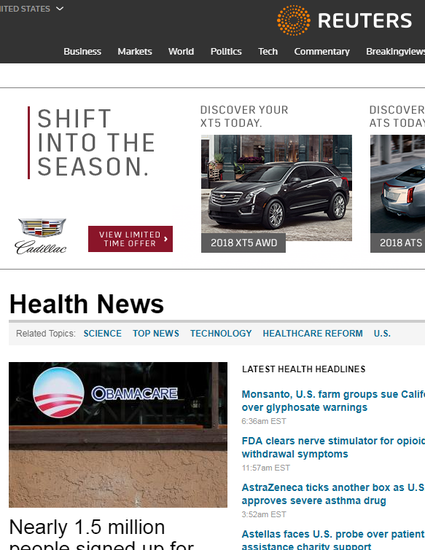 Popular Press
Multiple amputations, pelvic injuries common with IEDs
Reuters Health (2017)
Abstract
NEW YORK (Reuters Health)
Improvised explosive devices (IEDs) cause a far worse pattern of injury than conventional anti-personnel mines (APMs), a study by combat medics stationed in Afghanistan shows.
"These weapons cause devastating injuries that necessitate lifelong care and treatment for these patients," Dr. Shane Smith, a major in the Royal Canadian Medical Service based in London, Ontario, told Reuters Health by telephone. "They have multiple amputations as well as very significant pelvic injuries, and so these people will need support going forward."
Conventional landmines were initially designed to "injure but not kill, to remove a target from combat and to increase the logistical burden for the enemy of caring for the casualty," Dr. Smith and his team note in their report, published August 23 in BMJ Open. A person who steps on a landmine typically suffers traumatic amputation of the foot or leg, with one or more traumatic lower-limb amputations.
After observing that injuries from IEDs seemed to be much more severe, Dr. Smith and his team prospectively characterized injuries in 100 consecutive pedestrian IED victims treated between January 2010 and July 2011 at the Multinational Medical Unit at Kandahar Air Field in Afghanistan.
All patients were male, ranging in age from six to 44 years. Nine were younger than 18. Sixty-one were soldiers from the U.S., Canada or the UK; 27 were Afghan locals, and nationality was not recorded for the remaining 12.
Of the IED victims, 70% suffered multiple amputations, including five with quadruple amputations, 27 with triple amputations, and 38 with double amputations. In contrast, about 10% of conventional landmine victims sustain multiple amputations. Genital injury occurred in 26%, versus about 13% of those injured by conventional APMs.
Thirty-seven IED victims had at least one upper-extremity amputation, and 46 had perineal or gluteal injuries. Injuries were fatal in 19 patients.
"The typical injury profile . . . included: bilateral lower extremity amputations (often above the knee); mangling or amputation of an upper extremity; extensive soft tissue injury with deep contamination by soil, extending into gluteal and perineal regions and pelvic ring disruption and genital mutilation," the authors state.
Given the observed injury patterns, Dr. Smith and his colleagues note, first responders to IED injuries should be prepared to apply tourniquets bilaterally and place pelvic binders to help reduce blood loss.
"IEDs have a much more severe and significant injury pattern than industrially manufactured conventional landmines," Dr. Jonathan Morrison, a trauma surgeon at the R. Adam Cowley Shock Trauma Center at the University of Maryland Medical System, told Reuters Health by telephone. Dr. Morrison deployed multiple times to Iraq and Afghanistan, but he did not participate in the new study.
Since about 2011-2012, Dr. Morrison noted, coalition soldiers serving in Afghanistan have been issued perineal protection garments to shield them from blast injury. Also, he added, soldiers are now less likely to patrol on foot, and more likely to travel in armored mine-resistant vehicles specifically designed to deflect IED blasts.
Lessons learned from treating IED injuries have been useful for civilian physicians caring for victims of shootings and terrorist attacks in the U.S., Dr. Morrison pointed out. The U.S. Department of Homeland Security's Stop the Bleed campaign aims to give bystanders the skills to step in and treat trauma victims, he added. (https://www.dhs.gov/stopthebleed)
"The concept of powerful improvised explosive devices is not new," Dr. Morrison said, noting that the devices were used against U.S. soldiers in Vietnam, who rarely survived the events.
"We are now much better at managing these sorts of injuries," he said. "There is now a cohort of several hundred veterans who have a relatively unique set of injuries, and caring for them in five, 10, 20 years' time is going to have some unique challenges that we've never encountered before."
Copyright(c) Copyright Thomson Reuters 2016. Click For Restrictions - http://about.reuters.com/fulllegal.asp
Publication Date
August 28, 2017
Citation Information
Anne Harding. "Multiple amputations, pelvic injuries common with IEDs"
Reuters Health
(2017)
Available at: http://works.bepress.com/vivianmcalister/235/