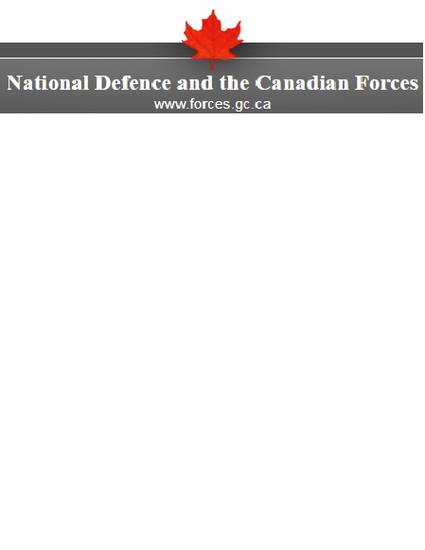 Other
Military surgeon selected as co-editor of the Canadian Journal of Surgery
(2013)
Abstract
OTTAWA – The Canadian Journal of Surgery has appointed Major Vivian McAlister, a Canadian Armed Forces (CAF) surgeon, as co-editor, highlighting the high esteem in which CAF doctors are held in the medical community.
When not engaged in military duties, Major McAlister works at Western University in London, Ontario as a Professor of Surgery. He is also a member of the Council of the Royal College of Physicians and Surgeons of Canada.
"Major McAlister's appointment as co-editor of the Canadian Journal of Surgery illustrates the very high quality of health professionals within the Canadian Armed Forces," said the Honourable Peter MacKay, Minister of National Defence."The health of Canadian Armed Forces personnel is a top priority for this government and medical officers such as Major McAlister represent the finest doctors in our country and abroad. I congratulate him on behalf of the Government of Canada."
The mission of the Canadian Journal of Surgery, a publication of the Canadian Medical Association, is to contribute to the effective continuing medical education of Canadian surgical specialists, using innovative techniques when feasible, and to provide surgeons with an effective vehicle for the dissemination of observations in the areas of clinical and basic science research.
"As a professor of surgery who has completed six tours in combat, mentorship, and humanitarian assistance operations in Afghanistan and Haiti, Major McAlister brings a superb international reputation and an extraordinary wealth of experience to the Canadian Journal of Surgery," said Brigadier-General Jean-Robert Bernier, the Surgeon General. "His contributions to the journal's educational mission, his work at Western University, and his service on the Royal College's council all exemplify the close collaboration and mutual support between the civilian and military medical communities. This close relationship has existed since before Confederation and benefits all Canadians."
Contact: Joanna.Labonte@forces.gc.ca
Notes to editor / news director: For more information on Canadian Forces Health Services please visit: http://www.forces.gc.ca/health-sante/default-eng.asp.
Publication Date
February 2, 2013
Citation Information
National Defence and the Canadian Forces. "Military surgeon selected as co-editor of the Canadian Journal of Surgery" (2013)
Available at: http://works.bepress.com/vivianmcalister/169/