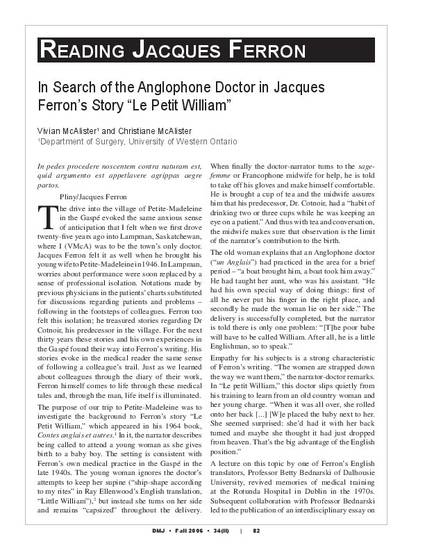 Article
In Search of the Anglophone Doctor in Jacques Ferron's Story "Le petit William"
Dalhousie Medical Journal (2006)
Abstract
The story of 'Le Petit William' (Contes anglais, 1964) is based on Ferron's experiences as a general practitioner in the Gaspé in 1946. A medical event, use of the maternal left lateral position by a sage-femme to deliver a baby boy, becomes allegory. The sage-femme had learned the technique from a visiting Anglophone doctor. A simple joke, which superficially appears to be the story's culmination, takes on a sombre political tone when considered in the light of the Latin epigraph. Trips to the Gaspé, a review of the history of obstetrics and speculation are used in this paper to understand the realities upon which Ferron's fantastic literature is based.
A la recherche du médecin « anglais » dans 'Le petit William' de Jacques Ferron L'histoire de « Le Petit William » (Contes anglais,1964) est basée sur les expériences de Ferron comme médecin de campagne en Gaspésie en 1946. Un événement médical, l'usage de la posture obstétricale « position latérale gauche » par une sage-femme lors de la naissance d'un petit garçon, donne lieu à une allégorie. La sage-femme avait appris la technique d'un accoucheur « anglais», de passage dans la région. Une plaisanterie simple, qui semble à première vue être la culmination de l'histoire, prend un ton politique plutôt sombre quand on la considère à la lumière de l'épigraphe latine. Partant de renseignements recueillis lors de voyages en Gaspésie, d'une revue de l'histoire obstétricale, et de la spéculation, nous essaierons de comprendre les réalités sur lesquelles la littérature fantastique de Ferron est basée.
Keywords
Canadian fiction,
francophone,
Quebec,
physician writer,
Gaspé
Publication Date
Fall 2006
Citation Information
Vivian C. McAlister and Christiane I. McAlister. "In Search of the Anglophone Doctor in Jacques Ferron's Story "Le petit William""
Dalhousie Medical Journal
Vol. 34 Iss. 2 (2006)
Available at: http://works.bepress.com/vivianmcalister/12/