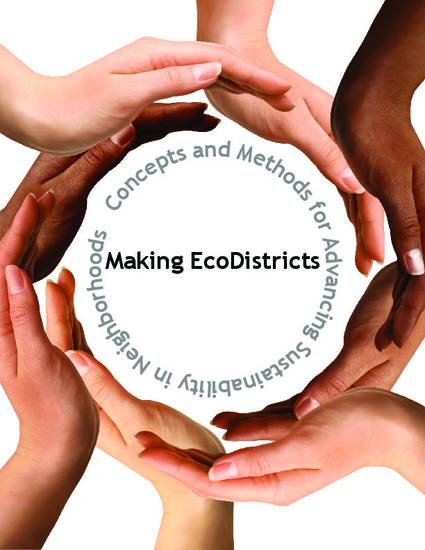 Article
Making EcoDistricts Concepts and Methods for Advancing Sustainability in Neighborhoods
Institute for Sustainable Solutions Publications and Presentations
Document Type
Technical Report
Publication Date
9-1-2010
Subjects
Ecological districts,
Ecological regions,
Regional planning
Abstract
This report is about how developing "EcoDistricts" in Portland can result in more sustainable neighborhoods and a more sustainable city. With generous funding from the Bullitt Foundation in Seattle, we have been able to take a deeper look into core concepts underlying the notion of pursuing citywide sustainability through neighborhood-scale action. The question becomes: What needs to be done to enable communities to self-manage their resource using behavior by creating community-inspired interventions that change relationships between people and between people and place? To answer these questions and to contribute to the emerging practice of EcoDistrict formation and development, what follows are four chapters that help to bring a "people first" EcoDistrict strategy into focus.
Persistent Identifier
http://archives.pdx.edu/ds/psu/8732
Citation Information
Seltzer, Ethan, Smith, Tim, Cortright, Joe, Bassett, Ellen M. and Vivek Shandas (2010) Making EcoDistricts Concepts & Methods for Advancing Sustainability in Neighborhoods, Portland, OR.