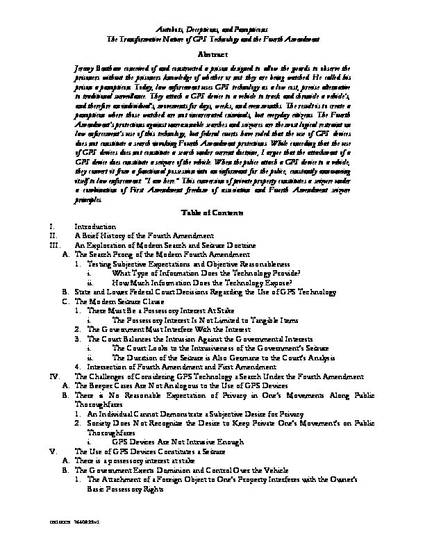 Unpublished Paper
Autobots, Decepticons, and Panopticons: The Transformative Nature of GPS Technology and the Fourth Amendment
ExpressO (2010)
Abstract
Jeremy Bentham conceived of and constructed a prison designed to allow the guards to observe the prisoners without the prisoners knowledge of whether or not they are being watched. He called his prison a panopticon. Today, law enforcement uses GPS technology as a low cost, precise alternative to traditional surveillance. They attach a GPS device to a vehicle to track and chronicle a vehicle's, and therefore an individual's, movements for days, weeks, and even months. The result is to create a panopticon where those watched are not incarcerated criminals, but everyday citizens. The Fourth Amendment's protections against unreasonable searches and seizures are the most logical restraint on law enforcement's use of this technology, but federal courts have ruled that the use of GPS devices does not constitute a search invoking Fourth Amendment protections. While conceding that the use of GPS devices does not constitute a search under current doctrine, I argue that the attachment of a GPS device does constitute a seizure of the vehicle. When the police attach a GPS device to a vehicle, they convert it from a functional possession into an informant for the police, constantly announcing itself to law enforcement: "I am here." This conversion of private property constitutes a seizure under a combination of First Amendment freedom of association and Fourth Amendment seizure principles.
Publication Date
September 8, 2010
Citation Information
Vivek Kothari. "Autobots, Decepticons, and Panopticons: The Transformative Nature of GPS Technology and the Fourth Amendment"
ExpressO
(2010)
Available at: http://works.bepress.com/vivek_kothari/7/