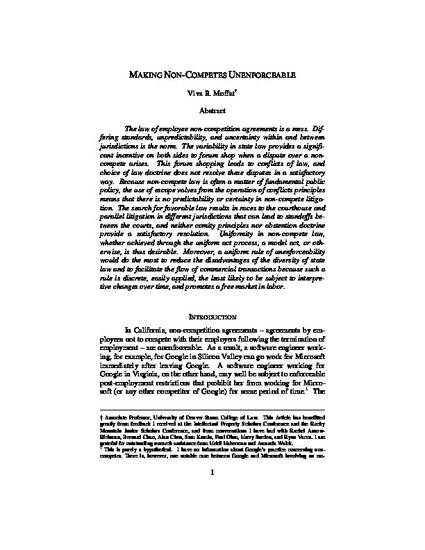 Unpublished Paper
Making Non-Competes Unenforceable
ExpressO (2012)
Abstract
The law of employee non-competition agreements is a mess. Differing standards, unpredictability, and uncertainty within and between jurisdictions is the norm. The variability in state law provides a significant incentive on both sides to forum shop when a dispute over a non-compete arises. This forum shopping leads to conflicts of law, and choice of law doctrine does not resolve these disputes in a satisfactory way. Because non-compete law is often a matter of fundamental public policy, the use of escape valves from the operation of conflicts principles means that there is no predictability or certainty in non-compete litigation. The search for favorable law results in races to the courthouse and parallel litigation in different jurisdictions that can lead to standoffs between the courts, and neither comity principles nor abstention doctrine provide a satisfactory resolution. Uniformity in non-compete law, whether achieved through the uniform act process, a model act, or otherwise, is thus desirable. Moreover, a uniform rule of unenforceability would do the most to reduce the disadvantages of the diversity of state law and to facilitate the flow of commercial transactions because such a rule is discrete, easily applied, the least likely to be subject to interpretive changes over time, and promotes a free market in labor.
Keywords
non-competes,
employment,
contracts
Publication Date
March 1, 2012
Citation Information
Viva R. Moffat. "Making Non-Competes Unenforceable"
ExpressO
(2012)
Available at: http://works.bepress.com/viva_moffat/4/