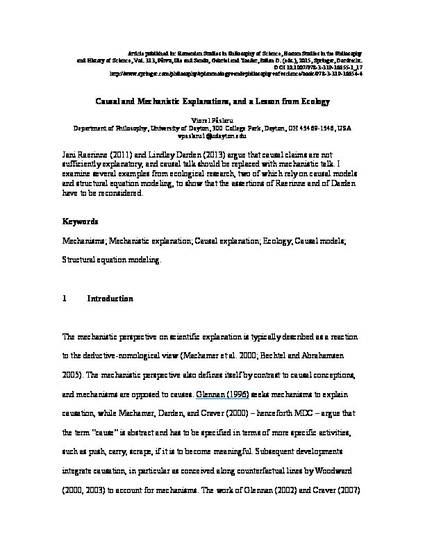 Article
Causal and Mechanistic Explanations, and a Lesson from Ecology
Romanian Studies in Philosophy of Science
Document Type
Book Chapter
Publication Date
1-1-2015
Abstract
Jani Raerinne and Lindley Darden argue that causal claims are not sufficiently explanatory, and causal talk should be replaced with mechanistic talk. I examine several examples from ecological research, two of which rely on causal models and structural equation modeling, to show that the assertions of Raerinne and of Darden have to be reconsidered.
ISBN/ISSN
978-3-319-16654-4
Document Version
Postprint
Copyright
Copyright © 2015, Springer
Keywords
Mechanisms,
Mechanistic explanation,
Causal explanation,
Ecology,
Causal models,
Structural equation modeling
Citation Information
Viorel Pâslaru. "Causal and Mechanistic Explanations, and a Lesson from Ecology"
Romanian Studies in Philosophy of Science
Vol. 313 Iss. Part V (2015)
Available at: http://works.bepress.com/viorel_paslaru/3/