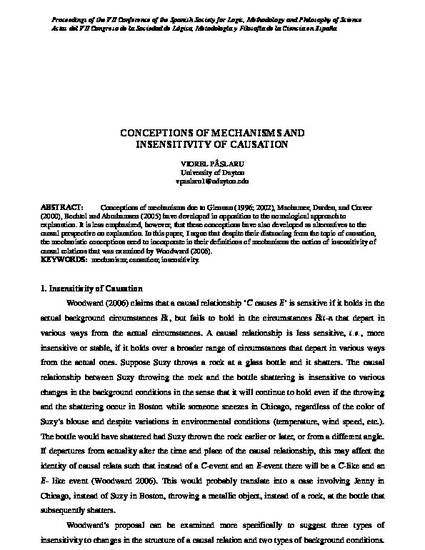 Article
Conceptions of Mechanisms and Insensitivity of Causation
Proceedings of the VII Conference of the Spanish Society for Logic, Methodology and Philosophy of Science
Document Type
Conference Paper
Publication Date
1-1-2012
Abstract
Conceptions of mechanisms due to Glennan (1996; 2002), Machamer, Darden, and Craver (2000), Bechtel and Abrahamsen (2005) have developed in opposition to the nomological approach to explanation. It is less emphasized, however, that these conceptions have also developed as alternatives to the causal perspective on explanation. In this paper, I argue that despite their distancing from the topic of causation, the mechanistic conceptions need to incorporate in their definitions of mechanisms the notion of insensitivity of causal relations that was examined by Woodward (2006).
Document Version
Published Version
Copyright
Copyright © 2012, Viorel Pâslaru
Publisher
Spanish Society for Logic, Methodology and Philosophy of Science
Place of Publication
Santiago de Compostela, Spain
Citation Information
Viorel Pâslaru. "Conceptions of Mechanisms and Insensitivity of Causation"
Proceedings of the VII Conference of the Spanish Society for Logic, Methodology and Philosophy of Science
Vol. 217 (2012)
Available at: http://works.bepress.com/viorel_paslaru/2/