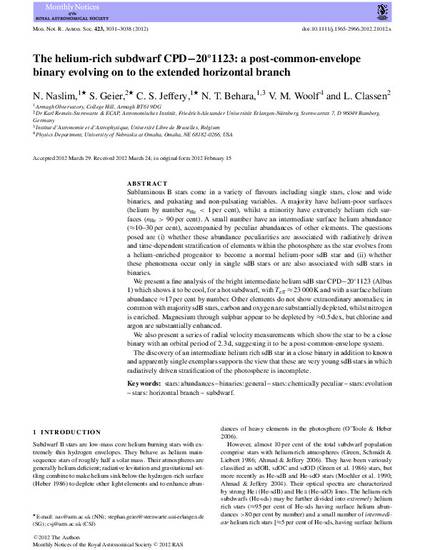 Article
The helium-rich subdwar CPD-20d1123: a post-common-envelope binary evolving on to the extended horizontal branch
Monthly Notices of the Royal Astronomical Society (2012)
Abstract
Subluminous B stars come in a variety of flavours including single stars, close and wide binaries, and pulsating and non-pulsating variables.
We present a fine analysis of the bright intermediate helium sdB star CPD-20d1123 which shows it to be cool, for a hot subdwarf, with Teff = 23000 K and with a surface helium abundance ~17 percent by number. Other elements do not show extraordinary anomalies; in common with majority sdB stars, carbon and oxygen are substantially depleted, whilst nitrogen is enriched. Magnesium through sulphur appear to be depleted by ~0.5 dex, but chlorine and argon are substantially enhanced.
We also present a series of radial velocity measurements which show the star to be a close binary with an orbital period of 2.3 d, suggesting it to be a post-common-envelope system.
The discovery of an intermediate helium rich sdB star in a close binary in addition to kjnown and apparently single exemplars supports the view that these are very young sdB stars in which radiatively driven stratification of the photosphere is incomplete
Keywords
stars: abundances binaries,
chemically peculiar stars,
stars: evolution,
stars: horizontal branch,
stars: subdwarf
Citation Information
Vincent M Woolf. "The helium-rich subdwar CPD-20d1123: a post-common-envelope binary evolving on to the extended horizontal branch"
Monthly Notices of the Royal Astronomical Society
Vol. 423 (2012)
Available at: http://works.bepress.com/vincent_woolf/1/