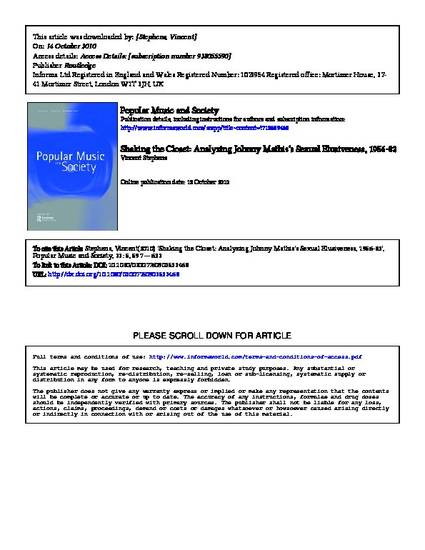 Article
Shaking the Closet: Analyzing Johnny Mathis's Sexual Elusiveness, 1956-1982
Popular Music and Society (2010)
Abstract
Though pop crooner Johnny Mathis inadvertently revealed his homosexuality in a 1982 "off-the-record" interview his sexuality had long been an open secret prior to this disclosure. "Shaking the Closet" argues that the notion of "the closet" is insufficient for understanding Mathis's career and those of many other seemingly "closeted" queer public figures. The presentation suggests that the non-threatening sexual image Mathis presented in the 1950s was an overt commercial strategy intended to appease white audiences and adhere to an imperative for public respectability, an enduring theme within African-American cultural politics. Despite these seeming compromises close critical attention to his musical choices, visual imagery, and press clippings reveals a complex performance of sexual elusiveness that is as available to a queer gaze as the racialized heterosexual gaze implicit to pop music. The presentation offers Mathis's career as an exemplar of queer subjectivity informed by a combination of racial, sexual, and commercial contexts that define sex and gender disclosure beyond the typical verbal rituals associated with "coming out," and transcending the usual connotations of the sexual closet.
Keywords
Johnny Mathis,
homosexuality,
politics of respectability
Publication Date
December, 2010
Citation Information
Vincent L Stephens. "Shaking the Closet: Analyzing Johnny Mathis's Sexual Elusiveness, 1956-1982"
Popular Music and Society
Vol. 33.5 (2010)
Available at: http://works.bepress.com/vincent_stephens/1/