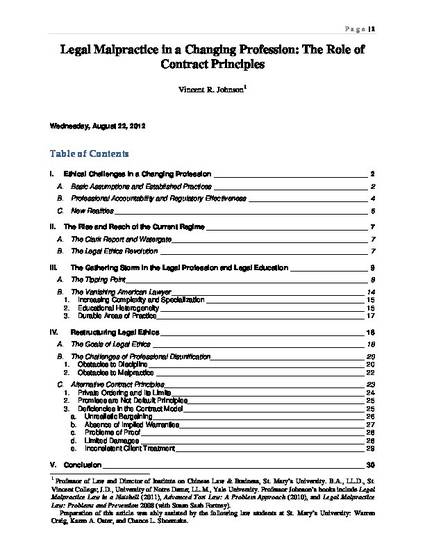 Unpublished Paper
Legal Malpractice in a Changing Profession: The Role of Contract Principles
ExpressO (2012)
Abstract
A looming transformation of the American legal profession threatens to undercut the central pillars of the current legal ethics regime. This is true because the present system of disciplinary and malpractice liability is based on the assumption that legal services will be provided by lawyers who are held to professional standards. Yet, as Professor Thomas D. Morgan of George Washington University compelling argues in The Vanishing American Lawyer (Oxford Press 2010), legal services are increasingly likely to be provided to clients by nonlawyers, or by lawyers who are not fully licensed. This article examines why, in a less unified legal profession involving a variety of providers and "unbundled" legal services, ethics rules and the principles of negligence and fiduciary duty will often be incapable of protecting clients. The article argues that contract principles will not adequately fill the developing gap in the law of legal malpractice. Contract law offers no great repository of client protection principles, but rather an array of rules which do as much to limit obligations to clients as to create them. Weak and unsophisticated clients are unlikely to be safeguarded by contract principles from those who are incompetent, dishonest, or disloyal.
Keywords
Legal Malpractice,
Contract Law,
Legal Ethics,
Lawyers,
Legal Profession
Publication Date
August 22, 2012
Citation Information
Vincent R. Johnson. "Legal Malpractice in a Changing Profession: The Role of Contract Principles"
ExpressO
(2012)
Available at: http://works.bepress.com/vincent_johnson/6/