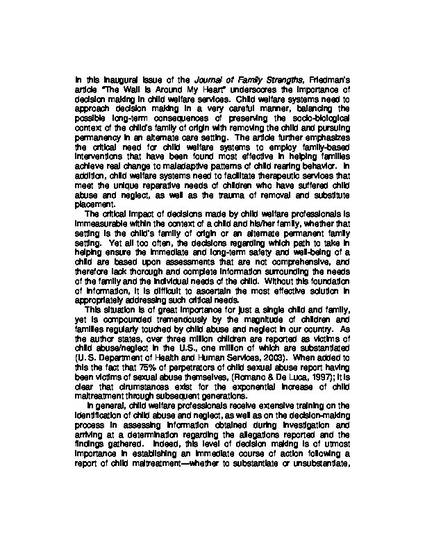 Article
Considering the Consequences of Child Welfare Service Decisions
Journal of Family Strengths
Abstract
The following commentary serves as a response to the article, "That Wall is Around My Heart," underscoring the importance of decision making in child welfare services. The commentary supports the need for child welfare systems to carefully consider the long-term consequences of various service intervention strategies. Child welfare systems must attend to both the internal external elements of safety, giving special attention to the emotional trauma of child maltreatment and the trauma resulting from removal and placement in alternative care. The commentary supports the need for child welfare systems to provide effective interventions that prevent and respond to child abuse and neglect, as well as break the cyclical nature of child maltreatment, helping ensure the safety of children and families for future generations.
Author Biography
Vincent J. Geremia, MPA, RN, LCSW, is Service Region Administrator for the Kentucky Department for Community Based Service. He has worked in the field of public child welfare in a variety of direct service, consultative, and administrative capacities for over 37 years, both in Missouri and Kentucky.
A Response To:
http://digitalcommons.library.tmc.edu/jfs/vol11/iss1/4
Citation Information
Vincent J. Geremia. "Considering the Consequences of Child Welfare Service Decisions"
Available at: http://works.bepress.com/vincent_geremia/1/